Magic Spells, Wizards and Puppets Coming to Husson University's Gracie Theatre
Published on: February 6, 2017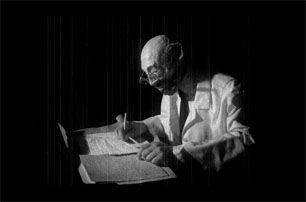 BANGOR, MAINE - Nashville puppet mastermind Brian Hull, director of the Nashville Public Library's Wishing Chair Productions and puppet designer, is bringing his puppet play "Kaytek the Wizard," based on Janusz Korczak's book, to the Gracie Theatre for two performances on Friday, February 10, 2017.
The original book, written in 1933, was translated from Polish to English in 2012. Set in the city of Warsaw, the story revolves around Kaytek, a mischievous schoolboy who wants to become a wizard and is surprised to discover that he's able to perform magic spells and change reality. He begins to lead a double life: a powerful wizard in the dress of an ordinary boy. The book is often compared to the "Harry Potter" series.
"This is the first time we are presenting a show geared toward children ages 9 and older," said Jeri Misler, managing director of the Gracie Theatre. "Our show is perfect for children or grandchildren who like stories about magic and wizards. Public, private and home school groups should also take the opportunity to see this unique presentation, especially the daytime performance."
There will be a question and answer session with the master puppeteer, following this hour-long multi-media show with music.
Scriptwriter and master puppeteer Brian Hull felt compelled to develop this tale because of its appeal to mature audiences ages 10 and older and its message. "Kaytek has more power than he knows how to use," Hull said during a rehearsal of the play. "It's a lesson for all of us. Everyone has more power than they understand."
The story revolves around a troubled child by the name of Kaytek. When he first gains his powers, he wreaks havoc on his classroom by turning ink into water and making flies attack the teacher. His experiences and the results of his actions teach him the importance of responsibility.
In addition to puppets, the performance creates a magical atmosphere through a dynamic soundtrack and film projected on the screen behind the performers. The characters even sing songs. Hull's friend and local songwriter Sarah Hart composed the music. Projections weave animation of Kaytek and his shenanigans, images of Warsaw, and footage of a puppet Korczak writing the story.
Korczak, the author of the book on which the show is based, spent his life helping troubled children. He ran an orphanage that cared for over 200 young people. When the Nazis took over Poland, he refused to leave the children and died in an internment camp. Janusz Korczak was Jewish and was a significant hero of the Holocaust.
Performances of the puppet play will be Friday, February 10, 2017 with shows at 11 a.m. and 7 p.m. As a community service, Husson University is offering tickets to the 11 a.m. show for only $2. The 11 am performance is free to all Husson students, staff, faculty, and members of their families. 
Tickets for the 7 p.m. show are currently on sale from $10.00-$15.00. To reserve tickets, call the Gracie Theatre box office at 207.941.7888 or visit www.gracietheatre.com. Group rates are also available for the 7 p.m. evening show.
 This show is another example of the slate of exciting entertainment that the Gracie Theatre is bringing to Bangor over the next five months. Information about other upcoming performances is available on the theatre's website, Facebook page, or by calling the box office.
Completed in October of 2009, the Gracie Theatre is Husson University's center for the fine and performing arts. This beautiful 500-seat theatre is quickly earning a reputation as one of Maine's premier performance venues. In addition, The Gracie also serves as a learning platform for students from the New England School of Communications in digital audio, sound mixing, set design and construction, lighting, acting and electronics.
For more than 100 years, Husson University has prepared future leaders to handle the challenges of tomorrow through innovative undergraduate and graduate degrees. With a commitment to delivering affordable classroom, online and experiential learning opportunities, Husson University has come to represent superior value in higher education. Our Bangor campus and off-campus satellite education centers in Southern Maine, Wells, and Northern Maine provide advanced knowledge in business; health and education; pharmacy studies; science and humanities; as well as communication. In addition, Husson University has a robust adult learning program. For more information about educational opportunities that can lead to personal and professional success, visit Husson.edu.
Back to All Articles