Husson University College of Business and University of Maine School of Law Sign Agreement to Facilitate Student Transfers
Published on: February 24, 2017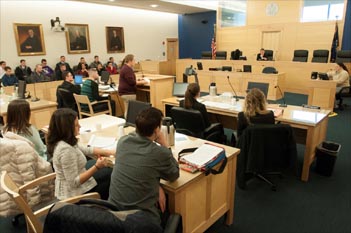 BANGOR, MAINE - Husson University's College of Business has signed a 3+3 articulation agreement with the University of Maine School of Law. Under this agreement, students who study for three years at Husson University can then apply for admission to Maine Law's three-year Juris Doctor (JD) program. Students who complete one year of Maine Law's JD program will satisfy the remaining requirements for a bachelor's degree from Husson University.
"This is an outstanding opportunity for students interested in furthering their legal education," said Husson University College of Business Dean Marie Hansen, Ph.D. "Creating this agreement smoothes the transfer of credit process from Husson to Maine Law. We are pleased to be working closely with Maine Law to help ease the transition to law school."
"Maine Law is excited to offer this opportunity to students who are clear about their career goals," said Caroline Wilshusen, Associate Dean for Admissions at Maine Law. "Maine Law sees this as an opportunity to encourage students throughout Maine to consider a law degree as a path towards leadership and service in their local communities."  
Since the new 3+3 agreement was initiated, three students from Husson University have been accepted to Maine Law. The first was Chelsea Broomhall from Saco, Maine. She is currently a junior at Husson University pursuing a Bachelor of Science in legal studies – pre-law degree with a paralegal certificate. Broomhall was recently named to Husson University's Dean's List.
"I've always known that I wanted to go to law school and become an attorney," says Broomhall. "I started at Husson because I was able to transfer nine credits from Biddeford Regional Center for Technology. That was almost a semester's worth of classes."
"Participating in the 3+3 program allows me to save a year's worth of tuition and get into my chosen career field faster," concluded Broomhall.
"I am pleased that the University of Maine School of Law is reaching prospective law students like Chelsea Broomhall," stated Dean Danielle Conway. "This program was made possible through collaborations with fine institutions like Husson University. I am also thrilled that Ms. Broomhall has taken full advantage of Maine Law's Pre-Law Undergraduate Scholars (PLUS) Program to sharpen her resolve to one day become a lawyer in Maine."
In assessing the significance of this agreement, Margaret Campbell, assistant professor at the School of Legal Studies at Husson University's College of Business said, "I was a graduate of Maine Law and wish there had been an opportunity like this when I was going to school. As a result of this articulation agreement, students interested in earning a law degree get a great education and save money; both schools increase enrollments, and our state gets quality lawyers who can serve the needs of the public, particularly in underserved areas of the state. Everyone wins."
The University of Maine School of Law, located in the coastal city of Portland, Maine, is a small school with a regional impact and a global reach. As Maine's public and only law school, Maine Law prepares graduates for careers as leaders inside and outside the traditional legal profession. Maine Law is a community of individuals who are invested in learning and serving, and are diverse in their backgrounds, professional experiences, and interests. Their graduates are prepared on every level for success in fields including law, business, government, and public service. Learn more at mainelaw.maine.edu. 
For more than 100 years, Husson University has prepared future leaders to handle the challenges of tomorrow through innovative undergraduate and graduate degrees. With a commitment to delivering affordable classroom, online and experiential learning opportunities, Husson University has come to represent superior value in higher education. Our Bangor campus and off-campus satellite education centers in Southern Maine, Wells, and Northern Maine provide advanced knowledge in business; health and education; pharmacy studies; science and humanities; as well as communication. In addition, Husson University has a robust adult learning program. For more information about educational opportunities that can lead to personal and professional success, visit Husson.edu.
Back to All Articles