Husson University to Host Code.org Information Session for School Administrators
Published on: March 2, 2017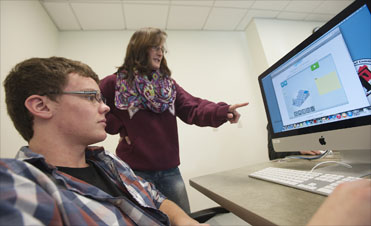 BANGOR, MAINE - Husson University's Richard E. Dyke Center for Family Business will be the site of a Code.org workshop for school principals, assistant principals, and superintendents on March 2, 2017 from 7:30 a.m. – 9:00 a.m. Educate Maine's Project>Login and the Maine Mathematics and Science Alliance (MMSA) are sponsoring the workshop.
This educational event will provide administrators with the opportunity to learn more about the Code.org Regional Partnership programming for teachers. Those in attendance will also learn about how schools can take advantage of free computer science training as part of teacher professional development initiatives.
"We know that if students take a computer science course in high school they are six times as likely to major in a computer science-related field," said Dr. Jason Judd, program Director for Educate Maine's Project>Login. "This session will help school administrators better appreciate the value of computer science and provide them with the resources they need to implement a computer science program in their schools." 
"We also want principals to know how Husson can serve as a resource and how their students can benefit from a variety of computer science/information technology-related programs at the University," said Judd.
A variety of principals, assistant principals, and superintendents from area schools will be attending this event. Included will be representatives from:
Bucksport High School
Bucksport Middle School
Glenburn Elementary
Mattanawcook Academy
Old Town Elementary School
Orono High School
Penobscot River Educational Partnership
Ridge View Community School
RSU 64
United Technologies Center
The Code.org facilitators leading this event are experienced computer science educators. They will help attendees embrace and teach the Code.org curriculum.
Husson University has a long-standing relationship with Code.org. The University has been an active participant in the organization's Hour of Code event. This one-hour introduction to computer science, designed to demystify "code," has consistently demonstrated that anyone can learn the basics and broaden their participation in the field of computer science. Hour of Code has since become a worldwide effort to celebrate computer science. Over 400 partners and 200,000 educators worldwide support this grassroots campaign.
This past December, students from Hermon High School visited Husson University in order to participate in Hour of Code activities. For more information on December's event, visit the press release section of Husson.edu. Husson's support of the upcoming workshop for school principals builds on the university's relationship with Code.org and supports the college's mission to help prepare students for career success.   
Educate Maine is a business-led education advocacy organization whose mission is to champion college and career readiness and increased education attainment. Project>Login, a program of Educate Maine, strives to increase the number of individuals in Maine interested in technology careers through K-12 computer science initiatives, collaboration with higher education providers, and by working with Maine's employers. For more information, please visit ProjectLogin.com.
The Maine Mathematics and Science Alliance (MMSA) was established in 1992 as a 501(c)3 not for profit organization. The MMSA supports science and mathematics in Maine and across the country through its programs, staff, fee for service, a diverse portfolio of grant-funded projects in science, technology, engineering, and mathematics (STEM) education, and policy support.
Launched in 2013, Code.org® is a non-profit dedicated to expanding participation in computer science by making it available in more schools, and increasing participation by women and underrepresented students of color. Our vision is that every student in every school should have the opportunity to learn computer science. We believe computer science and computer programming should be part of the core curriculum in education, alongside other science, technology, engineering, and mathematics (STEM) courses, such as biology, physics, chemistry, and algebra.
For more than 100 years, Husson University has prepared future leaders to handle the challenges of tomorrow through innovative undergraduate and graduate degrees. With a commitment to delivering affordable classroom, online and experiential learning opportunities, Husson University has come to represent superior value in higher education. Our Bangor campus and off-campus satellite education centers in Southern Maine, Wells, and Northern Maine provide advanced knowledge in business; health and education; pharmacy studies, science and humanities; as well as communication. In addition, Husson University has a robust adult learning program. For more information about educational opportunities that can lead to personal and professional success, visit Husson.edu.
Back to All Articles