Eco Artist Krisanne Baker to Exhibit Work at Husson University's White Gallery
Published on: February 6, 2017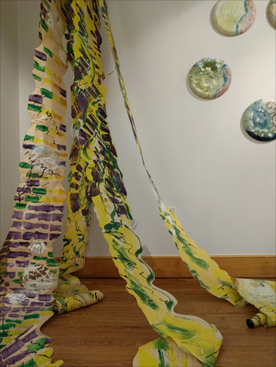 BANGOR, MAINE - Husson University announced today that it would be featuring a multimedia art and science gallery installation by Krisanne Baker at the Robert E. White Gallery in Peabody Hall on its Bangor, Maine campus. The opening reception for the exhibition will take place on Thursday, February 9, 2017 from 4 – 5:30 p.m. and will begin with an artist talk by Baker. Prior to the opening, Baker will be spending time in classes where she will share her insights with Husson students as a visiting artist. The gallery installation will be on display until March 31, 2017.
"The concept of entropy, or the spiraling process of things falling apart, and the way our culture continues to layer refuse conversely inspires my work toward sustainability in our environment and culture," said Baker. "By engaging the viewer in an internal dialogue on the results of unsustainable cultural practices, my work explores a theme of regeneration; or how we might reverse entropic situations into those that emphasize renewal or sustainable growth. I like to call this new term 'regenerentropic.' The meaning of my multi-media work is not embodied solely by the objects, but by the idea that we need to improve and care for our ecologies. In addition, I want to begin a dialogue and inspire action between the work and the viewing public."
Baker grew up on Cape Cod sailing the waters of New England with her father. Her love for the ocean and our connection to it as the basis of life is evident in the digital video 'Upstream to Downstream (In Our Bloodstreams).' She received training as a painter at the Rhode Island School of Design in 1982. This was where she first encountered video production. Baker's graduate work at the Vermont College of Fine Arts combined her love for the natural environment with her art. Today, she is an ecological art activist. Her multi-media sculptures, drawings, and digital media works are specifically concerned with the sustainability of water quality, availability, and the rights of all creatures on this water planet. Baker has lived and worked on the coast of Maine for over 20 years.
"We are honored to have an artist of Krisanne Baker's caliber exhibiting at the Robert E. White Gallery," said Kathi J. Smith, an assistant professor at Husson University's College of Science and Humanities and gallery coordinator. "Her work reminds us of both the power and beauty contained in the natural world, along with our responsibilities as custodians of this planet to protect and ensure the ongoing sustainability of the environment. We aim to introduce students to the places where science and art meet, and to develop conversation across curriculums." 
Additional work by Baker can be seen at krisannebaker.com.
About the Robert E. White Gallery at Husson University
Artists with connections to Maine who work in every possible medium including watercolors, still lifes, oil paintings, pastels, sculptures, acrylics, photographs and printmaking, are featured at the Robert E. White Gallery. 
With a new show approximately every 10 weeks, the gallery provides students with a glimpse at how regional artists express themselves, giving them added insight into the place where they've chosen to go to school. The newly developed visiting artist program, invites artists into the classroom to engage students in opportunities for experiential learning. The gallery was established in 1992 and named for, and endowed by, Husson alumnus and former Board of Trustee Chair Robert E. White '65.
The Robert E. White Gallery is free and open to the public, Monday through Friday, from 8:30 a.m. to 4:30 p.m., or by appointment. It is located in Peabody Hall on the campus of Husson University at 1 College Circle, Bangor, ME. For additional information contact: 207-941-7004 or email RobertEWhiteGallery@husson.edu. 
For more than 100 years, Husson University has prepared future leaders to handle the challenges of tomorrow through innovative undergraduate and graduate degrees. With a commitment to delivering affordable classroom, online and experiential learning opportunities, Husson University has come to represent superior value in higher education. Our Bangor campus and off-campus satellite education centers in Southern Maine, Wells, and Northern Maine provide advanced knowledge in business; health and education; pharmacy studies; science and humanities; as well as communication. In addition, Husson University has a robust adult learning program. For more information about educational opportunities that can lead to personal and professional success, visit Husson.edu
Back to All Articles