3 Husson University Students are Awarded $1,500 to Design a Rain Garden
Published on: January 3, 2017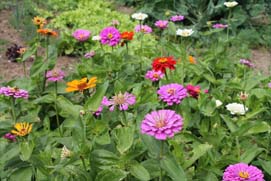 BANGOR, MAINE -
 Husson University announced today that three students, Brooks Gay of Underhill, Vermont, Kaile Kimball of Lamoine, Maine, and Serian Williams of Cardiff, Wales in the United Kingdom, have been awarded a $1,500 Maine Campus Compact grant to study stormwater runoff. The students will be using the award to design a rain garden on Husson's Bangor, Maine campus.
"Building a rain garden helps decrease stormwater runoff while also increasing campus biodiversity by creating a natural habitat for butterflies, bees, birds and other wildlife," says Dr. Thomas Stone, an assistant professor of mathematics and physics at Husson University's College of Science and Humanities. "They also treat stormwater by capturing sediment, hydrocarbons, metals, and nutrients. This is an outstanding way for our students to make a positive impact on the environment and participate in a project that will enhance their degree studies."
Gay and Kimball are currently working toward their Bachelor of Science degrees in environmental science at Husson University's College of Science and Humanities. Williams, who is also a student in the College of Science and Humanities, is pursing degrees in biology and physical therapy.
Rain gardens are designed to absorb rainwater from impervious surfaces, like roads and driveways, before the water flows off campus. This prevents the stormwater from picking up pollutants and depositing them downstream into nearby lakes and rivers. The students will be working on the project with faculty member and chair of the campus sustainability committee, Dr. Tom Stone. Wynne Guglielmo, Husson's environmental, health, and safety compliance officer, will also advise the students.
The grant is part of a new initiative call the Maine Student Water Challenge, created through a partnership between the Maine Experimental Program Stimulating Competitive Research (EPSCoR) and the Maine Campus Compact. The Water Challenge allows 52 higher education students in Maine, organized into 2 - 4 person campus teams, to each receive $500 stipends toward projects that help solve water-related problems.
Teams who compete in the Maine Student Water Challenge participate in action-plan and Science Education for New Civic Engagements and Responsibilities (SENCER) training. They then come together in January at the final Student Water Challenge-Palooza to network, share their action plans, and collaborate on implementation.
Water action plans can include proposals for a wide-range of projects. Participating student teams can developed innovative water action plans that focus on:
Developing a K-12 curriculum around water quality or storm water runoff
Creating community empowerment plans about local water quality issues
Implementing projects that address water quality, ocean acidification, ocean-related research, aquaculture, aquaponics, or stormwater runoff.
The Maine Student Water Challenge funding follows on the heels of a Campuses for Environmental Stewardship grant that Husson received last year from Maine Campus Compact. Both projects underscore Husson's commitment to campus sustainability and in preparing students for the challenges of a constantly changing world. 
"As our planet continues to experience the effects of climate change, the need for qualified, educated biology and environmental science graduates will only increase," says Husson University College of Science and Humanities Dean Patricia Bixel. "This is a great career path for anyone with a passion for the environment and who wants to help our planet become more sustainable."    According to the Bureau of Labor Statistics, employment of environmental scientists and specialists is projected to grow 11 percent from 2014 to 2024, faster than the average for all occupations.[1] Heightened public interest in the hazards facing the environment, as well as the increasing demands placed on the environment by population growth, is expected to spur demand for environmental scientists and specialists.[2]
To help meet the increasing demand for knowledgeable environmental science professionals, Husson University offers a Bachelor of Science in Environmental Science degree. The program is designed to provide students with a strong, broad-based foundation in the natural and physical processes that affect the functioning of our planet, as well as the social and political factors that influence environmental policy and management.
The degree is ideal for anyone interested in positions with local, state, and federal government agencies, private environmental organizations, or educational institutions with scientific or policy-related environmental disciplines.
For more than 100 years, Husson University has prepared future leaders to handle the challenges of tomorrow through innovative undergraduate and graduate degrees. With a commitment to delivering affordable classroom, online and experiential learning opportunities, Husson University has come to represent superior value in higher education. Our Bangor campus and off-campus satellite education centers in Southern Maine, Wells, and Northern Maine provide advanced knowledge in business; health and education; pharmacy studies; science and humanities; as well as communication. In addition, Husson University has a robust adult learning program. For more information about educational opportunities that can lead to personal and professional success, visit Husson.edu.
---
Back to All Articles