Marketing and Communication Experts to Share Career Insights with Husson Students
Published on: December 1, 2016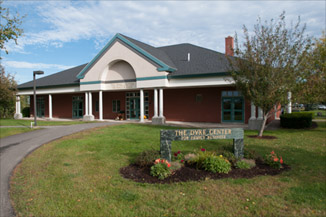 BANGOR, MAINE - Husson University will be sponsoring a career panel discussion with four area marketing and communication experts at the Richard E. Dyke Center for Family Business on November 29, 2016 at 9:00 a.m. 
"This is a great event for anyone with an interest in business or marketing," said James Westhoff, director of Career Services at Husson University. "The media professionals and entrepreneurs on our panel will talk about what it takes to break into and succeed in today's communications industry."
The four media professionals who will comprise the panel include:
T.J. Holloway, the president of Holloway Group Consulting. Holloway earned a Master of Science in Business (MSB 2008) and Master of Business Administration (MBA 2012) from Husson University. Holloway Group Consulting offers professional development and training in a number of industries. Holloway and his organization have served a variety of businesses including Sprague Energy, JSI Store Fixtures, Inc., Hollywood Casino, the Charlotte White Center, Downeast Horizons, and many more businesses in the greater Bangor area. The Holloway Group's professional development offerings focus on business writing, emotional intelligence in the workplace, managing change, management, leadership, and supervision. In addition to leading Holloway Group Consulting, T.J. Holloway is also an adjunct professor at Husson University's College of Business where he teaches BA 101 Introduction to Business.
Dale Landrith, the chief strategist at Dream Local Digital. Landrith graduated from Husson University in 2000 with a Bachelor of Science degree in business administration with a concentration in marketing. He joined Dream Local Digital in 2013 as a marketing strategist and sales executive. In 2014, Landrith was promoted to chief strategist. In this role, Landrith is responsible for overseeing the organization's online strategist team and leading all client work, research and strategy development. He focuses on driving success and growth for clients, staying on top of trends with small-medium sized businesses in social media and search engine marketing, and best practices that can be applied to clients' unique business needs. 
Laurie Lozier, a senior media consultant at the Bangor Daily News. She is currently pursuing her Bachelor of Science in business administration degree at Husson University. Lozier began her career at the Bangor Daily News in July 2012 as a digital sales consultant. After just four months, she was promoted multi-media consultant at the newspaper, a position she held for over four year. In May of 2015, Lozier became a senior media consultant at the newspaper. In this role, she helps sell the newspaper's advertising opportunities to local area organizations looking for marketing solutions. Prior to joining the Bangor Daily News, Lozier was a client service manager at Dream Local Digital.  
Jillian Piehler, the marketing director at Sutherland Weston. Piehler grew up in Machias, Maine, and is a graduate of the New England School of Communications at Husson University where she earned a Bachelor of Science in marketing communications in 2008. She is also a graduate of the Bangor Region Leadership Institute (BRLI) and serves on the Steering Committees for both BRLI and FUSION▪Bangor. Jillian leads the Sutherland Weston account management team whose role is to "work closely with our awesome clients" and manage a variety of projects.
"The advent of digital media has revolutionized modern communications. Social media and computer technology have completely changed the ways this industry operates and measures success. I look forward to hearing this panel's insights into where we are now and what we can expect in the future," concluded Westhoff.
The event is free and open to the public. For more information, please contact James Westhoff, director of Career Services at 207.992.4909 or westhoffj@husson.edu. Those interested in attending are encouraged to arrive early since seating is limited.
The Holloway Group, LLC, is a leading independent professional development and consulting firm serving clients throughout Maine and New Hampshire. As an organization, The Holloway Group focuses on quality and reliability, not size. The heart and knowledge behind their relationship team leads to an unwavering commitment to the highest service levels in professional development. The firm is committed to four simple principles: customer priority, people count, operational excellence and reputation matters. To learn more visit HollowayGroupLLC.com.
Dream Local Digital is a digital marketing agency specializing in interactive media, marketing, SEO, and social media. Dream Local Digital works with newspapers, media companies, ad agencies, and directly with small to medium-sized businesses on all aspects of their online marketing plans, from website development, content strategy, and social media to search engine optimization, reputation management and e-mail marketing. Visit us at DreamLocal.com.
The Bangor Daily News is Maine's largest online news source, covering the entire state. A family-owned newspaper now in its fourth generation of ownership, the Bangor Daily News has been Maine's newspaper of record for 120 years. Established in 1889 by the great grandfather of the current publisher, Richard J. Warren, the company continues to serve its readers and its advertisers with products that are relevant to the times. To learn more visit BangorDailyNews.com.
Sutherland Weston is a team of marketing professionals dedicated to shaping organizations brands and sharing their stories. The firm is a full service, Maine-based, marketing-focused company who works best with business clients that are seeking smart, creative, and effective revenue growth strategies and not-for-profits looking to be more efficient with their communications budget. For more information, visit SutherlandWeston.com.
For more than 100 years, Husson University has prepared future leaders to handle the challenges of tomorrow through innovative undergraduate and graduate degrees. With a commitment to delivering affordable classroom, online and experiential learning opportunities, Husson University has come to represent superior value in higher education. Our Bangor campus and off-campus satellite education centers in Southern Maine, Wells and Northern Maine provide advanced knowledge in business; health and education; pharmacy studies, science and humanities; as well as communication. In addition, Husson University has a robust adult learning program. For more information about educational opportunities that can lead to personal and professional success, visit Husson.edu.
Back to All Articles