Husson University to Host the Next Bangor Region Chamber of Commerce "Business After Hours" Event
Published on: December 20, 2016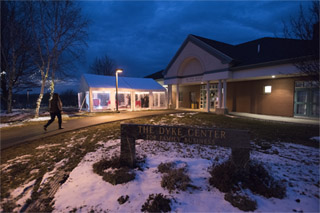 BANGOR, MAINE – December 7, 2016 – Husson University will be hosting the Bangor Region Chamber of Commerce's December "Business After Hours" networking event at the Richard E. Dyke Center for Family Business on Thursday, December 8 from 5 p.m. – 7 p.m. The event is open to all Chamber members.
In addition to the fabulous food provided by Husson dining services, the event will provide local area Chamber members with the opportunity to make business connections and win door prizes.
"Husson University has the largest college of business in the state. We also offer a wide variety of programs in education, healthcare, pharmacy studies, counseling, criminal justice, science, the humanities, and communication," says Dean Marie Hansen, Ph.D. "This is a great opportunity to showcase the many educational opportunities we offer to area business leaders interested in personal professional development or enhancing their employees' skill sets."  
"Business After Hours" is a popular Chamber event that facilitates networking between business professionals. Each month, the event is held at a different Chamber member's location. Rotating locations gives Chamber members the opportunity to increase awareness of their services with the regional business community. Holding the events after the close of normal business hours also permits attendees to enjoy themselves in a collegial, casual environment, where they can win door prizes donated by area businesses.
The event will be held at Husson University's Richard E. Dyke Center for Family Business (CFB). The Center for Family Business is dedicated to supporting and strengthening the 30,000 family-owned businesses in Maine through a variety of seminars and workshops.
The Center includes conference and meeting rooms along with a library and resource room. It is an ideal venue for meetings, conferences, seminars, workshops, or special events. With state-of-the-art meeting rooms, audiovisual equipment, advanced presentation technologies, a kitchen facility and a capable staff, the Center for Family Business can be configured to meet virtually any meeting requirement. 
The Bangor Region Chamber of Commerce represents more than 830 members in 21 communities in eastern Maine. Their mission is to promote and advance a vital, healthy business environment. The Chamber is the voice of the business community and works each day to promote a favorable business environment and a high quality of life is our area. To learn about the region and the Chamber, explore BangorRegion.com, visit the Chamber at 20 South Street in Bangor, or call 207-947-0307.
For more than 100 years, Husson University has prepared future leaders to handle the challenges of tomorrow through innovative undergraduate and graduate degrees. With a commitment to delivering affordable classroom, online and experiential learning opportunities, Husson University has come to represent superior value in higher education. Our Bangor campus and off-campus satellite education centers in Southern Maine, Wells, and Northern Maine provide advanced knowledge in business; health and education; pharmacy studies; science and humanities; as well as communication. In addition, Husson University has a robust adult learning program. For more information about educational opportunities that can lead to personal and professional success, visit Husson.edu.
Back to All Articles