Husson University Theatre Presents Tennessee Williams' "The Glass Menagerie"
Published on: December 5, 2016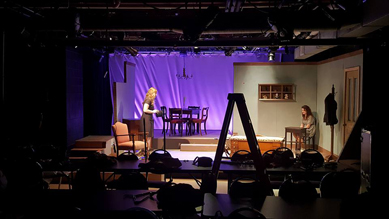 BANGOR, MAINE - Husson University's student theatre group will be performing Tennessee Williams' classic play "The Glass Menagerie" in the Gracie Theatre's black box performance space on December 2 – 4. First performed in 1944, this classic tragedy catapulted Williams from obscurity to fame. Partially autobiographical, the play features strong characters based on those from Williams' own life including his histrionic mother and his mentally fragile sister Rose. 
"The Glass Menagerie" is a recounting of experiences from the main character's perspective. Over the course of the play, this character (Tom) narrates and participates in scenes from his past. He struggles with the desire to leave home and the pressure of having to provide for his overbearing mother, Amanda, a woman who constantly relives the days of her youth.
Tom must also provide for his sister, Laura, a timid and socially awkward young girl who spends most of her time listening to old records and tending to her collection of glass animals. Amanda feels the best way for Laura to be cared for is to be married, so she elicits Tom's help. Reluctantly, Tom invites Jim, a friend from work, to their home to meet Laura. When things don't go as planned, Tom is faced with a decision that still haunts him to the present day.
Husson University Theatre (HUT) is a student-run organization and the official student theatre company of Husson University. Past performances include David Auburn's "Proof," William Shakespeare's "Twelfth Night," and "Mary's Wedding" by Stephen Massicotte. Husson students are responsible for all aspects of the company's operations. This includes all of the production roles from acting on stage, to crew roles backstage, and box office management. 
Husson senior Chris Turner directed this upcoming production of "The Glass Menagerie" with set design by senior Nichole Sparlin, lights by junior Logan Bard, and Kristen Atwood as stage manager. The cast includes Eddie Grace, Katherine Walker, Megan Hallissey, and Dustin Sinclair.
This show will be performed in the black box performance space, on the second floor of the Gracie Theatre complex on Husson University's campus in Bangor, Maine. There will be three performances. Show times are 7 p.m. on Friday, December 2 and Saturday, December 3. In addition, there will be a matinee performance at 2 p.m. on Sunday, December 4. Tickets are $3 for students and $5 for the public. To reserve tickets, call the Husson University Theatre (HUT) box office at 207-619-2488. For more information about HUT and the upcoming production of "The Glass Menagerie," please contact HUT president Nichole Sparlin at sparlinn@husson.edu.
Completed in October of 2009, The Gracie is Husson University's center for the fine and performing arts. This beautiful new 500-seat theatre is quickly earning a reputation as one of Maine's premier performance venues. In addition, The Gracie also serves as a learning platform for students from the New England School of Communications in digital audio, sound mixing, set design and construction, lighting, acting and electronics. For more information, visit GracieTheatre.com.
For more than 100 years, Husson University has prepared future leaders to handle the challenges of tomorrow through innovative undergraduate and graduate degrees. With a commitment to delivering affordable classroom, online and experiential learning opportunities, Husson University has come to represent superior value in higher education. Our Bangor campus and off-campus satellite education centers in Southern Maine, Wells, and Northern Maine provide advanced knowledge in business; health and education; pharmacy studies; science and humanities; as well as communication. In addition, Husson University has a robust adult learning program. For more information about educational opportunities that can lead to personal and professional success, visit Husson.edu.
Back to All Articles