Husson University Creates Stock Index That Tracks Companies Impacting Maine's Economy
Published on: December 28, 2016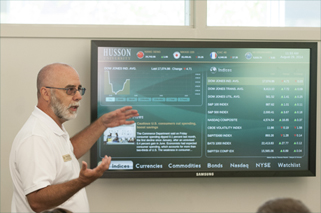 BANGOR, MAINE – December 27, 2016 – Heard of the Dow Jones Industrial Average, the NASDAQ Composite, and the S&P 500? Well make room investors, there's a new index in town.
Husson University's College of Business, the largest college of business in Maine, has created the Husson Stock Index. Developed by students in conjunction with School of Business and Management Associate Professor J. Douglas Wellington, JD, LLM, the index tracks and analyzes 28 companies that have an effect on Maine's economy.
"The companies in this price-weighted index are either based in Maine or have an influence on our state's economy through employment, the number of consumers they serve, or their overall presence," says Wellington. "When combined with analysis, this measurement tool provides students with a better understanding of Maine's business climate."  
The Husson Stock Index was initially proposed and developed by Marie Heath when she was a student at Husson University. Today, Heath is a finance manager in the University's Office of Financial Services.
Calculated by students on a weekly basis when classes are in session, the index provides both a numerical benchmark and an opportunity for understanding market movement. Students can look at current events and determine the impact these had on the stock valuations. The analysis becomes part of an educational experience where students increase their understanding of stocks and why their prices fluctuate.  
"Calculating stock indexes, conducting analysis, and generating reports is an outstanding way to provide students with experiential learning," says College of Business Dean Dr. Marie Hansen. "This is another example of how Husson University helps ensure that our graduates are work ready on day one."  
The Husson Stock Index is published on the University's website each week during the school year. To see the index, visit Husson.edu/College-of-Business/Publications-From-the-COB/Maine-Stock-Index.
For more than 100 years, Husson University has prepared future leaders to handle the challenges of tomorrow through innovative undergraduate and graduate degrees. With a commitment to delivering affordable classroom, online and experiential learning opportunities, Husson University has come to represent superior value in higher education. Our Bangor campus and off-campus satellite education centers in Southern Maine, Wells, and Northern Maine provide advanced knowledge in business; health and education; pharmacy studies; science and humanities; as well as communication. In addition, Husson University has a robust adult learning program. For more information about educational opportunities that can lead to personal and professional success, visit Husson.edu.
Back to All Articles