Husson University is Providing Workforce Development Programs by Partnering with Maine Employers
Published on: November 3, 2016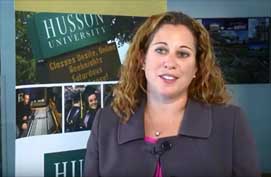 BANGOR, MAINE - Husson University announced today that it has entered into a series of partnership agreements with some of Maine's premier employers to help the organizations further develop and enhance their workforce.
"These cooperative educational partnerships benefit both employers and their employees," says William Watson, director of Husson's Partners Program. "Well-designed and targeted education provides organizations with a higher quality work force and improves the opportunity for internal promotions. This often leads to increased productivity and profitability. Education also enhances retention and can be used as a recruitment incentive."
Bob Montgomery-Rice, CEO and president of Bangor Savings Bank, one of Maine's largest independent banks, also sees education as a way to help employees further their careers within the organization. "Having a partnership with a school like Husson, who truly understands our emphasis on the role education plays in strengthening Maine's workforce, is really important. Employees are keenly aware; they want to enhance their skills in preparation for new opportunities, and they see education as a meaningful pathway to accomplish that. 
Other area business leaders see education as a way to enhance employee retention. "I would advise other businesses to recommend this opportunity to their team," says Jerilyn Underhill, an accounting manager at CIANBRO, one of the nation's most successful construction and construction services companies. "You need an edge to keep your people, satisfy your people, and develop your people."
Part of what has made the partnerships between Husson University and area businesses so effective is Husson's ability to deliver education in a variety of formats. Students can choose where and how they receive their education. This provides busy working adults with the opportunity to pursue their education after children have gone to bed or before they start work in the morning. With on-campus offerings in Westbrook, Bangor and Presque Isle, as well as on-site and online classes, Husson provides students with educational options that fit both their individual learning styles and lifestyles.
This flexibility extends to employers as well. MEMIC's Senior Vice President and Chief Administrative Officer Catherine Lamson talked about what Husson is doing to help Maine's largest and leading worker's compensation insurer become even more successful. "We've had an opportunity to work with Husson to customize a program that can be delivered when it's most convenient for our employees. I have to say, I think the program has been very flexible. It's always good to have options. One size doesn't fit all anymore."
Students see how education benefits them personally. They also see how their employers stand to gain. Husson MBA student Rachel Chamberlin, a consumer development director at monoline insurance giant UNUM, said, "A lot of employers care about health and wellness and development. This is just one more forum that allows them to pass that along to their employees. In the end, a more educated and prepared workforce benefits the employee and the employer."
Cat Lutz, director of the Mouse Repository and the Rare and Orphan Disease Center at The Jackson Laboratory, a nonprofit biomedical research institution, summed up her experience pursuing an MBA at Husson University this way, "What I learned at Husson - every class, every chapter, every problem, every discussion that we had – was directly applicable to the work I was doing already. I think this is a tremendous opportunity for area employers to partner and collaborate with Husson… Keeping your employees interested, keeping them motivated, and keeping them learning are great ways to have both job satisfaction as well as a great return on investment."  
"Selecting Husson University for workforce development makes sense," said Dr. Marie Hansen, dean of Husson's College of Business. "The College of Business is the largest school of its kind in the state and we have more than 100 years of experience in providing education that leads to professional success." 
Husson's educational offerings are affordable. The university is the lowest net-priced, private four-year college in Maine accredited by the New England Association of Colleges and Schools.
Employers who are interested in learning more about how Husson University can assist their organization with workforce development should contact William Watson, director of the Husson University Partners program at 207.404.5699 or watsonw@husson.edu.
For more than 100 years, Husson University has prepared future leaders to handle the challenges of tomorrow through innovative undergraduate and graduate degrees. With a commitment to delivering affordable classroom, online and experiential learning opportunities, Husson University has come to represent superior value in higher education. Our Bangor campus and off-campus satellite education centers in Southern Maine, Wells, and Northern
Maine provide advanced knowledge in business; health and education; pharmacy studies; science and humanities; as well as communication. In addition, Husson University has a robust adult learning program. For more information about educational opportunities that can lead to personal and professional success, visit Husson.edu.
Back to All Articles