Folk-Rock Duo Aztec Two-Step Celebrates 45th Anniversary at Husson University's Gracie Theatre
Published on: November 15, 2016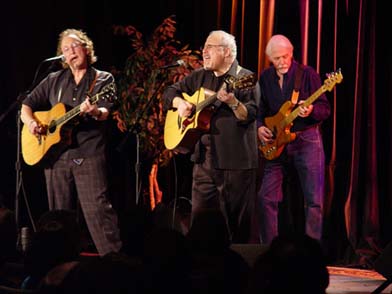 BANGOR, MAINE - This year marks acclaimed folk–rock duo Aztec Two-Step's 45th anniversary. Rex Fowler and Neal Shulman, who met at a Boston coffeehouse open mic in 1971, will be commemorating this amazing milestone with special shows throughout the year. At 7:30 p.m. on Saturday, November 19, at Husson University's Gracie Theatre, the duo will perform original songs from their 45-year collaboration along with a sprinkling of Everly Brothers and Simon & Garfunkel classics.
"We are delighted to have Aztec Two-Step back with us for this special celebration. Rex and Neil have performed on the Gracie stage several times and have many fans in Maine," said Jeri Misler, managing director of the Gracie Theatre.
Bursting on the scene in 1972 with their critically acclaimed self-titled debut on Elektra Records, Aztec Two-Step's first album and three subsequent albums for RCA Records were staples of progressive FM and college radio. They helped usher in musical trends of the 1960s, '70s and beyond. Since then, Rex Fowler and Neal Shulman have spent a lifetime making music together as a folk-rock duo who took their name from a poem by beat poet Lawrence Ferlinghetti.
Richard Cuccaro, publisher of the esteemed NYC music magazine Acoustic Live! states, "Aztec Two-Step is possibly the best acoustic duo in the world today." According to Variety, Aztec Two-Step is ''… the right sound at the right time … beautiful acoustic guitar playing and questioning lyrics … songs performed with forceful vocals and near perfect instrumental harmonies.''
Recording and touring non-stop since the early '70s, Rex and Neal have accumulated forty-five years of awards, accolades, and media appearances that include the David Letterman Show, World Café Live, and the King Biscuit Flour Hour. In addition, they have graced countless stages including those of Carnegie Hall and Lincoln Center. In 1986, the duo's "Living In America" received the New York Music Award for Best Folk Album. They were also included in Billboard's year-end critic's poll. In 1999, they were the subject of "No Hit Wonder," a documentary that aired on PBS.
In 2005, they released a career-defining "Days Of Horses" CD to rave reviews. Up until this point Fowler had been the primary songwriter of the duo, but here, Neal Shulman penned five of the album's 11 songs, including their baby-boomer anthemic "Better These Days." The title track "Days of Horses," written by Rex Fowler, was used as the opening and closing music in the 2012 documentary "Selling Cars in America."
In 2007, the duo's song "The Persecution and Restoration of Dean Moriarty (On The Road)," initially released on their debut album, was included in Rhino Records' "Forever Changing-The Golden Age of Elektra Records 1963-1973," the story of this landmark record label and the music that defined an era. The song, according to Jack Kerouac's biographer Dennis McNally, was the first recorded about Kerouac's iconic novel On the Road. Also in 2007, Real Simple magazine named the duo's self-titled debut as one of the top five classic folk albums, joining works by superstars Bob Dylan, Judy Collins, Tom Rush, and Phil Ochs. 
The duo's 2008 live recording "Time It Was - The Simon & Garfunkel Songbook" (Red Engine Records), features narration by the late legendary Deejay and music historian Pete Fornatale. Rex and Neal's 1972 Elektra debut generated reviews that described the duo as having "east coast sensibility," "intellectual lyricism," and "ethereal harmonies" of Simon & Garfunkel. To many in their field, it wasn't surprising that Rex and Neal would choose to interpret and perform the timeless songs and harmonies of their legendary predecessors.
Finally, in 2012, to commemorate their 40th Anniversary year, Rex and Neal released their 10th studio album "Cause & Effect" (Red Engine Records). Featuring their long-time bassist Fred Holman, it is a collection of 16 socially significant songs, produced by Paul Guzzone, who also produced their "Days of Horses" CD. The album is a combination of re-worked previously recorded songs and newly mined material.
Defined by intelligent songwriting, dazzling acoustic lead guitar, and inspiring two-part harmonies, Aztec Two-Step continues to be one of acoustic music's most respected and enduring acts.
More information about the concert can be found by calling the Gracie Theatre box office at 207-941-7888 or visiting GracieTheatre.com. Tickets are $25-$30. This show is another example of the slate of exciting entertainment that the Gracie Theatre is bringing to Bangor over the next eight months. Information about other upcoming performances is available on the theatre's website, Facebook page, or by calling the box office.
Completed in October of 2009, the Gracie Theatre is Husson University's center for the fine and performing arts. This beautiful 500-seat theatre is quickly earning a reputation as one of Maine's premier performance venues. In addition, The Gracie also serves as a learning platform for students from the New England School of Communications in digital audio, sound mixing, set design and construction, lighting, acting and electronics.
For more than 100 years, Husson University has prepared future leaders to handle the challenges of tomorrow through innovative undergraduate and graduate degrees. With a commitment to delivering affordable classroom, online and experiential learning opportunities, Husson University has come to represent superior value in higher education. Our Bangor campus and off-campus satellite education centers in Southern Maine, Wells, and Northern Maine provide advanced knowledge in business; health and education; pharmacy studies; science and humanities; as well as communication. In addition, Husson University has a robust adult learning program. For more information about educational opportunities that can lead to personal and professional success, visit Husson.edu.
Back to All Articles