Joan Osborne in Concert at Husson University's Gracie Theatre
Published on: October 25, 2016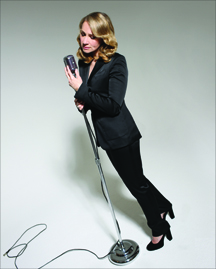 BANGOR, MAINE – October 25, 2016 – Joan Osborne, multi-platinum selling recording artist will be at Husson University's Gracie Theatre on Saturday, November 5, as part of an acoustic duo concert featuring Keith Cotton. The concert is the second in the Gracie's Bangor Savings Bank season. Four Points by Sheraton is sponsoring the performance.
Osborne has rightfully earned a reputation as one of the great voices of her generation — as both a commanding, passionate performer and a frank, emotionally evocative songwriter. As a soulful vocalist, she is seven-time Grammy nominee. Osborne is a highly sought-after collaborator and guest performer who has performed alongside many notable artists, including Bob Dylan, Luciano Pavarotti, Stevie Wonder, Emmylou Harris, Taj Mahal, and Mavis Staples to name a few. 
"Joan Osborne is the perfect fit for the Gracie's intimate setting. Her voice, and the connections she makes to her audience through her music will make this a memorable concert event," said Jeri Misler, managing director of the Gracie.
Osborne began her music career when she moved to New York City in the late 1980s. In New York, she formed her own record label, Womanly Hips, and released a few independent recordings. In 1991, she signed with Mercury Records, and released her first full-length album, "Soul Show: Live at Delta 88." Her second (and first major label) album was "Relish" (1995). The strength of the single "(What if God Was) One of Us" helped make the album a hit. Other minor hits on the album included "Right Hand Man" and "St. Teresa." "Spider Web" also received radio play. 
She is widely known for her live performances in the Grammy Award-winning documentary, "Standing in the Shadows of Motown," which received rave reviews from fans and critics alike. Osborne has produced two albums for Americana stalwarts the Holmes Brothers, and co-produced her last two critically acclaimed solo records, "Love and Hate," and "Bring It On Home," with talented producer/multi-instrumentalist Jack Petruzzelli. In "Bring It On Home,"
Osborne tackled vintage songs by Muddy Waters, Ray Charles, Al Green, Ike and Tina Turner, and Sonny Boy Williamson (among others). Her interpretations of songs by these renowned artists treated their original compositions with respect while giving them some interesting twists in tempo, key, and feeling. "Bring It On Home" garnered a Best Blues Album nomination at the 2013 Grammy Awards.
The album reminded the singer of what music is all about. "There's a texture and richness to these songs that singers don't have right away, that I didn't have when I started out," Osborne says. "But the more I've done this, the more tone and depth I've developed. This was the time. These songs, they're a remedy—they get me out of my head. These songs put the music back in my heart and my soul."
Osborne's latest solo recording, "Love and Hate," is one of the most personally charged, creatively ambitious efforts of her two-decades-plus recording career. While she has long established herself as one of the world's most respected vocalists, her soulful song craft reaches a new level of musical and lyrical resonance on this album.
Insightful, emotionally complex new compositions include: "Where We Start," "Work On Me," "Kitten's Got Claws," and "Keep It Underground." The pointed title track explores some of the more complicated terrain associated with romantic relationships in a manner that has rarely been attempted in popular music. In addition, the album's intimate, stripped-down sound marks a stylistic departure from the gritty blues-based rock for which Osborne is best known.
More information about the concert can be found by calling the Gracie Theatre box office at 207-941-7888 or visiting GracieTheatre.com. Ticket prices for this concert range from $28 - $37. This show is another example of the slate of exciting entertainment that the Gracie Theatre is bringing to Bangor over the next eight months. Information about other upcoming performances is available at the theatre's website, Facebook, or by calling the box office.
Completed in October of 2009, the Gracie is Husson University's center for the fine and performing arts. This beautiful 500-seat theatre is quickly earning a reputation as one of Maine's premier performance venues. In addition, the Gracie also serves as a learning platform for students from the New England School of Communications in digital audio, sound mixing, set design and construction, lighting, acting and electronics. For more information, visit GracieTheatre.com.  
For more than 100 years, Husson University has prepared future leaders to handle the challenges of tomorrow through innovative undergraduate and graduate degrees. With a commitment to delivering affordable classroom, online and experiential learning opportunities, Husson University has come to represent superior value in higher education. Our Bangor campus and off-campus satellite education centers in Southern Maine, Wells, and Northern Maine provide advanced knowledge in business; health and education; pharmacy studies; science and humanities; as well as communication. In addition, Husson University has a robust adult learning program. For more information about educational opportunities that can lead to personal and professional success, visit Husson.edu.
Back to All Articles