Husson University presents a free concert: Teaching the Eye to Hear: Musical Reflections on Henri Matisse's Jazz
Published on: October 3, 2016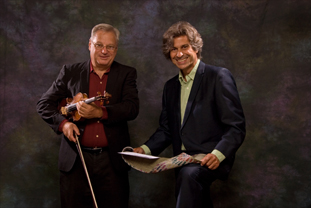 BANGOR, MAINE –October 3, 2016 – 
The Matisse Jazz Project, a free multi-media concert event will be presented at the Gracie Theatre on the campus of Husson University Thursday, October 13.  The concert is part of Bangor's Artober calendar with two performances at 1:00 pm. and 7:00 pm.
The Matisse Jazz Project is a musical concert inspired by the iconic cut paper collages of Henri Matisse published in 1947 as Jazz. The twenty pieces composed by pianist Christopher Bakriges and performed with violinist Stanley Chepaitis correspond to each of the Matisse Jazz cutouts and his writings.
"What makes this concert exciting is the interdisciplinary involvement we have planned.  There will be art students on stage creating their own scissor cut-outs during our daytime performance,  and improvisaed choreography inspired by the music and projected imagesduring the evening performance. This is a one-of-a-kind concert."
Matisse viewed jazz as a "chromatic and rhythmic improvisation" and evoked the idea of a structure of rhythm and repetition broken by the unexpected action of improvisations. Matisse wrote, "There are wonderful things in real jazz, the talent for improvisation, the liveliness, the being at one with the audience." The Bakriges Chepaitis collaboration leave their own stunningly touching and virtuosic homage to the legacy of a leading figure in modern art.
In 1941, the 72-year-old French artist underwent cancer surgery for which he did not think he would survive.  Matisse was ill, bedridden, and unable to pick up a paint brush. However, he found he could maneuver scissors through prepared sheets of brightly colored paper. He referred to this technique as "painting with scissors." Among his first adventures with paper cutouts was a book called Jazz, which Matisse prepared in 1942 and published in 1947 containing twenty color plates as well as his written thoughts. Both the text and the cut outs inspired the musicians to make what they refer to as musical reflections on Matisse's work. Matisse used the energy of a still young musical idiom called jazz in enticing the art world to "teach the eye to hear."
More information about the concert can be found by calling the Gracie Theatre box office at 207-941-7888.  The concert is a gift of the late John Kilgore, Jr. whose love of music has contributed to similar concerts at the Gracie. Admission to both performances are free with donations being accepted and returned to the fund.
Completed in October of 2009, the Gracie is Husson University's center for the fine and performing arts. This beautiful 500-seat theatre is quickly earning a reputation as one of Maine's premier performance venues. In addition, the Gracie also serves as a learning platform for students from the New England School of Communications in digital audio, sound mixing, set design and construction, lighting, acting and electronics. For more information, visit GracieTheatre.com
For more than 100 years, Husson University has prepared future leaders to handle the challenges of tomorrow through innovative undergraduate and graduate degrees. With a commitment to delivering affordable classroom, online and experiential learning opportunities, Husson University has come to represent superior value in higher education. Our Bangor campus and off-campus satellite education centers in Southern Maine, Wells and Northern Maine provide advanced knowledge in business; health and education; pharmacy studies; science and humanities; as well as communication. In addition, Husson University has a robust adult learning program. For more information about educational opportunities that can lead to personal and professional success, visit Husson.edu.
Back to All Articles