Dysart's Employees Pursue Education at Husson University
Published on: October 13, 2016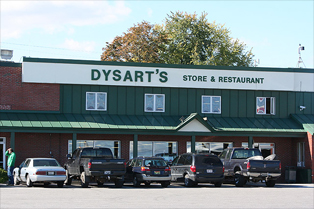 BANGOR, MAINE –October 13, 2016 – 
Dysart's, one of Central Maine's leading restaurant, truck stop, travel stop, motor oil, and heating and energy providers, has selected Husson University to help 65 of their 350 employees improve their business software skills as part of an employee education program. Their fourth class will take place at Husson University's Richard E. Dyke Center for Family Business on October 14, 2016 from 9:00 a.m. – 12:00 p.m., and will be continuing each Friday through the end of the year.
"Dysart's is continuing to experience significant growth," said the organization's IT Director Eric Boberg. "We chose Husson to help educate our employees not only because their faculty members are some of the area's leading educators in computer information systems, but also they were very receptive and responsive as we worked together to design our custom courses. We want our team to have a competitive edge as business tools continue to change how our employees perform their jobs. Choosing Husson to provide this education just makes sense."
Michael Knupp, assistant professor of information technology will be working with Dysart employees and managers to help them better leverage software in ways that will enhance organization productivity and profitability.
Knupp completed his master's degree in computer information systems with a concentration in database design and business intelligence at Boston University. He is currently completing his last year of coursework at Dakota State University where he is pursuing a Doctor of Science (D.Sc.) degree in computer information systems with a specialization in knowledge management and analytics.
While living in Connecticut, Knupp worked professionally for over 10 years in the information technology sector with life insurance companies and the global IT company, Electronic Data Systems (EDS). At EDS, he served as a senior business analyst and system expert at a startup life insurance call center.
He is a subject matter expert on life insurance system designs and implementation. Knupp was the leader of EDS's telecommuting community and worked remotely for several years. While at EDS, he received the FinsUp Award, a prestigious national award given to a select number of individuals within the organization. Knupp joined Husson in 2009 as an adjunct faculty member in the College of Science and Humanities. He currently is a faculty member in Husson University's College of Business.
"The partnership with Dysart's is just one example of how Husson University is working to make sure Maine's workforce has the skills they need to be competitive and successful in today's competitive global economy," said College of Business Dean Marie Hansen, Ph.D. "The College of Business at Husson University is the largest school of its kind in the state. We are uniquely qualified to help companies and individuals achieve professional success. 
Husson University offers several computer information system degree options. Among them is a two-year Associate in Science degree program that prepares graduates for entry-level positions as computer programmers and applications users. All credits in the two-year program are transferable into the four-year program. Husson's College of Business also offers a four-year Bachelor of Science degree that prepares graduates for entry-level positions as programmers or analysts with potential to move to the level of system analyst or manager.
In addition, students can pursue a Bachelor of Science in software development. This degree provides students with the skills needed to develop, create, and modify enterprise software or specialized utility programs. More information about additional degree options is available at http://www.husson.edu/college-of-business/school-of-business-and-management/.
About Dysart's
Ed Dysart, the grandfather of the current president, originally started Dysart's as various types of businesses back in the 40's and 50's. By about 1952, the business was established as a gas station and garage in Bangor where Interstate 95 currently intersects with Hammond Street.
When the interstate was built, Ed was forced to move his business to Brewer, and eventually to the current location of Dysart's Truck Stop in 1967.
Since that time the Dysart family of businesses has expanded to include a wholesale petroleum business, a petroleum tank farm, truck shop, warehouse, nine travel stop locations, a second restaurant, a motor oil distributorship, and a marina, along with many other ventures.
2017 will mark Dysart's 50th anniversary as a successful Central Maine business.
For more than 100 years, Husson University has prepared future leaders to handle the challenges of tomorrow through innovative undergraduate and graduate degrees. With a commitment to delivering affordable classroom, online and experiential learning opportunities, Husson University has come to represent superior value in higher education. Our Bangor campus and off-campus satellite education centers in Southern Maine, Wells, and Northern Maine provide advanced knowledge in business; health and education; pharmacy studies; science and humanities; as well as communication. In addition, Husson University has a robust adult learning program. For more information about educational opportunities that can lead to personal and professional success, visit Husson.edu.
Back to All Articles