Hilarity and Harmony at Husson Homecoming
Published on: September 12, 2016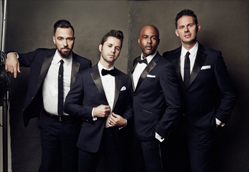 BANGOR, MAINE – September 12, 2016 – The Gracie Theatre will feature top-notch entertainment as part of Homecoming Weekend at Husson University on September 23 and 24.
Nationally known comedian Caroline Rhea kicks off the weekend at The Gracie on September 23 with her smart, spontaneous brand of comedy. Rhea has been doing stand-up comedy since 1989 and was recently featured in a one-hour, stand-up special, called "Rhea's Anatomy." The special was part of the Funny Girls series on Bravo.
Rhea has also appeared on Comedy Central, Comic Relief, Curb Your Enthusiasm, The Drew Carey Show, and was the host of The Caroline Rhea Show.
As an accomplished film and TV star, Rhea is best known for her role in the television show, Sabrina the Teenage Witch. Other feature credits include The Perfect Man, with Heather Locklear, Man on the Moon, co-starring Jim Carrey, and Christmas with the Kranks, opposite Tim Allen and Jamie Lee Curtis. She recently starred in the Lifetime movie Fat Like Me, and was the host of NBC's The Biggest Loser.
Capping off Husson's Homecoming weekend at the Gracie Theatre on September 24 will be the pop music sensation, The Company Men. This quartet, their all-star band, and performers from Broadway and nationally touring Broadway companies, will bring their "Night of Hits" show to the stage with songs that span six decades. The Company Men have shared stages with Mariah Carey, Natalie Cole, Colbie Caillet, Daughtry, and others.
Unlike any other four-man vocal groups touring today, The Company Men uniquely interweave today's Top 40 hits with re-imagined classics of the last six decades by blending songs from a diverse spectrum of artists including The Four Tops, Michael Jackson, The Temptations, Billy Joel, Prince Meghan Trainor, Bruno Mars and more.  
The public is invited to both events. Tickets are on sale now. Downeast Toyota is sponsoring these two performances and other Homecoming events. 
Tickets for Caroline Rhea are $24 - $30 for the public and $20 for Husson alumni.
Tickets for the performance by The Company Men are $29 - $38 for the public. A special $40 package for Husson alumni includes the performance and a pre-show reception.
To purchase tickets for either or both of these shows, contact the Gracie Theatre's box office at 207-941-7888 or online at GracieTheatre.com.
These two shows are just part of the slate of exciting entertainment that the Gracie Theatre will be bringing to Bangor over the next nine months. Members of the public interested in other Gracie offerings are welcome to purchase season tickets to the four main shows that comprise this year's season at the Gracie. For $140.00, season ticket holders will get premium seating for each performance at a 30% discounted rate. Single show tickets and more information about upcoming performances are available at GracieTheatre.com, Facebook, or by calling 207-941-7888. Tickets range in price from $15.00--67.00 depending on the fees and the show.
Completed in October of 2009, the Gracie is Husson University's center for the fine and performing arts. This beautiful 500-seat theatre is quickly earning a reputation as one of Maine's premier performance venues. In addition, the Gracie also serves as a learning platform for students from the New England School of Communications in digital audio, sound mixing, set design and construction, lighting, acting and electronics. For more information, visit GracieTheatre.com
For more than 100 years, Husson University has prepared future leaders to handle the challenges of tomorrow through innovative undergraduate and graduate degrees. With a commitment to delivering affordable classroom, online and experiential learning opportunities, Husson University has come to represent superior value in higher education. Our Bangor campus and off-campus satellite education centers in Southern Maine, Wells, and Northern Maine provide advanced knowledge in business; health and education; pharmacy studies; science and humanities; as well as communication. In addition, Husson University has a robust adult learning program. For more information about educational opportunities that can lead to personal and professional success, visit Husson.edu.
Back to All Articles