Groundbreaking Ceremony for New Townhouse Residence Halls at Husson University
Published on: September 22, 2016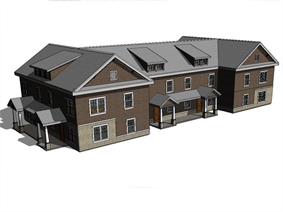 BANGOR, MAINE - September 22, 2016 – Husson University announced today that it will be celebrating the groundbreaking of three new townhouse residence halls on Saturday, September 24, 2016 at 9:30 a.m. on its Bangor, Maine campus. Participating in the groundbreaking ceremony will be University President Robert A. Clark, Ph.D., Dean of Student Life Carl G. Stiles, Ed.D., and Student Trustee Paul Forand. Additional individuals may be added to the program in the coming days.  
"Our campus residence halls are filled to capacity," said Clark. "Having attracted a record number of students this year, and anticipating further growth in the coming years, we need to add more on-campus housing in order to accommodate the increased demand for a Husson education."
Husson will be working to have this construction completed for the 2017-2018 academic year. Once completed, the three apartment-style townhouse buildings will have 72 beds. Each unit will be comprised of six two-story apartments.
The apartments, targeted for occupancy by juniors, seniors and graduate students, will have a complete kitchen, living/dining space, four single bedrooms and two bathrooms. Tied in with the campus master plan, the new townhomes will have similar architectural features as other buildings on campus.
The buildings will be located near a knoll in the grassy area opposite the Richard E. Dyke Center for Family Business. Husson expects significant interest in this event by the campus community since it will be a part of Homecoming Weekend on September 23 and 24.
"Having additional housing options will provide more students with the opportunity to fully participate in campus life," said Stiles. "Students who live on campus are more likely to feel as if they are fully integrated into our University community."
Approximately 1,100 students currently live on campus. They reside in the Hart, Carlisle, and Bell Residence Halls. They also live in the University's Living Learning Center. This facility offers four floors of suite-style living. 
The new residence hall project is part of Husson University's ongoing efforts to enhance their Bangor campus. Over the summer, Husson spent nearly $6 million on campus improvements. They included an upgrade of Winkin Field's 147,000 square-foot turf surface, renovations in the Carlisle Hall residence facility, a new weight room in the Newman Gymnasium complex, a new temporary student wellness center and more.
Future additions to the campus include plans for a new College of Business building. One million dollars was recently donated to the University by an anonymous donor toward the creation of a new interdisciplinary learning space in this building that will be dedicated to the conceptualization, marketing, management, and production of virtual reality presentations. 
For more than 100 years, Husson University has prepared future leaders to handle the challenges of tomorrow through innovative undergraduate and graduate degrees. With a commitment to delivering affordable classroom, online and experiential learning opportunities, Husson University has come to represent superior value in higher education. Our Bangor campus and off-campus satellite education centers in South Portland, Wells, and Presque Isle provide advanced knowledge in business; health and education; pharmacy studies, science and humanities; as well as communication. In addition, Husson University has a robust adult learning program. For more information about educational opportunities that can lead to personal and professional success, visit Husson.edu
Back to All Articles