Husson University's WHSN 89.3 FM Nominated for the National Association of Broadcaster's Noncommercial Station of the Year Award
Published on: September 19, 2016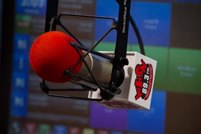 BANGOR, MAINE – September 19, 2016 – The New England School of Communications at Husson University proudly announced today that WHSN 89.3 FM is one of five stations nominated to receive a Marconi Award as the Noncommercial Station of the Year from the National Association of Broadcasters (NAB). The winner will be announced on September 22 at the NAB Marconi Radio Awards Dinner and Show during the 2016 Radio Show in Nashville.
"Our students and faculty have dedicated countless hours to making WHSN what it is today," says Mark Nason, manager of communications and internships at Husson University's New England School of Communications (NESCom). "Working at the station is an ideal experiential learning experience for anyone who is interested in becoming a professional radio broadcaster. Being nominated is a testament to the quality of a NESCom education and the passion of our students."
The station's radio broadcasting studios include three digital production suites equipped with all the tools necessary for producing on-air quality features and spots for both live and pre-recorded programming.
Centered around the Wheatstone E-1 and Audio Arts D-70 digital consoles, students use the latest software, external audio playback and their own voices in productions that build experience and benefit the radio station.
WHSN is committed to news and current events as part of its programming. The station strives to inform its listeners on the latest developments in their state and the world with timely newscasts, radar weather updates, and sports updates. With a staff of student reporters who use Associated Press ENPS software, along with live reports from field, WHSN covers news, events, entertainment, human-interest stories, and sports.
The student staff of WHSN is responsible for all aspects of station operations. This includes everything from scheduling daily play lists to producing public affairs features and interviewing artists.
Started in 1974, WHSN is licensed to Husson University. Over the course of the 30+ years the station has been on the air, WHSN has helped launch the careers of countless radio professionals. Graduates have gone on to work at radio stations all over Maine and throughout the world.
"WHSN is a great way for students to develop confidence and their verbal communication skills," says Husson University's New England School of Communications Interim Dean Dr. Marie Hansen. "Working on the news also gives students a better appreciation for the importance of community-related issues and how they can help make the world a better place." 
Established by the National Association of Broadcasters in 1989, the NAB Marconi Radio Awards are named after Nobel Prize winner and "Father of Wireless Telegraphy" Guglielmo Marconi.
The radio stations and personalities that receive Marconi awards were selected by the NAB Marconi Radio Awards Selection Academy. The academy is made up of general managers, program directors, regional executives, owners, programming consultants and former radio executives from across the country.
Other stations competing for the title of Noncommercial Station of the Year include KPCW-FM in Park City, Utah; WRHU-FM in Long Island, New York; WSDP-FM in Canton, Michigan; and WSOU-FM in South Orange, New Jersey.
The 2016 Radio Show, produced by the Radio Advertising Bureau (RAB) and the National Association of Broadcasters (NAB), will be held September 21-23 in Nashville. This year's show brings radio broadcasters and industry colleagues together to share knowledge, discover the latest innovations, network with industry leaders and explore creative business strategies for the digital age.
The National Association of Broadcasters is the premier advocacy association for America's broadcasters. NAB advances radio and television interests in legislative, regulatory and public affairs. Through advocacy, education, and innovation, NAB enables broadcasters to best serve their communities, strengthen their businesses, and seize new opportunities in the digital age.
The New England School of Communications (NESCom) at Husson University offers Bachelor of Science degrees in communications technology, mass communications, and entertainment production. Within these degrees, students may choose from concentrations in audio engineering, live sound technology, video production, webmedia, journalism, marketing communications, radio broadcasting, entertainment production, and sports journalism. The New England School of Communications specializes in communications, providing students with a hands-on experience that gives them the education and skills needed for today's job market.
For more than 100 years, Husson University has prepared future leaders to handle the challenges of tomorrow through innovative undergraduate and graduate degrees. With a commitment to delivering affordable classroom, online and experiential learning opportunities, Husson University has come to represent superior value in higher education. Our Bangor campus and off-campus satellite education centers in South Portland, Wells, and Presque Isle provide advanced knowledge in business; health and education; pharmacy studies, science and humanities; as well as communication. In addition, Husson University has a robust adult learning program. For more information about educational opportunities that can lead to personal and professional success, visit Husson.edu.
Back to All Articles