Largest Class in Husson University's History to Move In this Weekend
Published on: August 26, 2016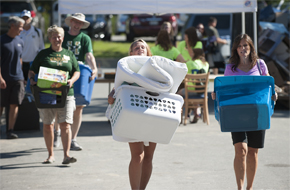 BANGOR, MAINE – August 26, 2016 – This weekend, Husson University will welcome first-year students along with returning sophomores, juniors, and seniors to their Bangor campus. The more than 600 first-year students will be the largest entering class in Husson University's history.
"The value that Husson University offers to prospective students is one of the reasons why we continue to grow," says Husson University President Robert A. Clark, Ph.D. "We offer students the opportunity to get a great professional education at an affordable price."
Students returning to Husson will notice a number of changes that reflect almost $6 million in campus investment. They include an upgrade of Winkin Field's 147,000 square-foot turf surface, renovations in the Carlisle Hall residence facility, a new weight room in the Newman Gymnasium complex, a new temporary student wellness center and more.
Students attending Husson University this year were selected from a pool of applicants from 37 states, the District of Columbia, and 35 countries.   
In addressing employers' needs for quality employees, Husson believes that there are additional opportunities for growth. The University is currently working on plans that will lead to the construction of a new College of Business building and additional student housing in the coming years.
In addition to new facilities, this year's incoming class will have more educational opportunities than ever before. This semester, the university will begin offering three new undergraduate programs in biochemistry, data analytics, and exercise science as well as three new graduate programs in biotechnology and innovation, risk management and pharmacology.
New faculty members are also getting ready to begin the academic year. According to Provost Lynne Coy-Ogan, "Husson University continues to attract educational leaders from across the country. The combination of in-depth academic knowledge and real world experience that they bring to the classroom, makes Husson University an exciting and dynamic learning environment." 
Students interested in living on campus have the opportunity to reside in Hart, Carlisle, or Bell Residence Halls. In addition, the University's Living Learning Center offers four floors of suite-style living for 244 students. The Living Learning Center is unique on campus in that it also contains the Darling Learning Center and its experiential learning classrooms. This combination of housing and educational space provides a holistic learning environment for students.
Welcome Weekend begins on Saturday, August 27, 2016 and continues throughout Sunday, August 28, 2016.
First-year students will check in on Saturday, August 27 at O'Donnell Commons. The check in is open from 8 am – 1 pm. Once the check-in process is completed, students can begin moving their belongings into the residence halls.
From 1:30 p.m. – 3 p.m. on August 27, Husson will be hosting a Legacy Social in the Darling Atrium of the Beardsley Meeting House. This event gives parents who attended Husson, and their children, who are attending Husson this year, the opportunity to meet similar families. During this gathering, parents and students can network with others whose commitment to the University spans generations.
A full schedule of Husson University Welcome Weekend activities is available at http://www.husson.edu/student-life/assets/husson-studentlife-2016WelcomeWeekend-Schedule.pdf
For more than 100 years, Husson University has prepared future leaders to handle the challenges of tomorrow through innovative undergraduate and graduate degrees. With a commitment to delivering affordable classroom, online and experiential learning opportunities, Husson University has come to represent superior value in higher education.  Our Bangor campus and off-campus satellite education centers in South Portland, Wells and Presque Isle provide advanced knowledge in business; health and education; pharmacy studies, science and humanities; as well as communication.  In addition, Husson University has a robust adult learning program.  For more information about educational opportunities that can lead to personal and professional success, visit Husson.edu
Back to All Articles