Husson University Southern Maine to Offer a Certificate Course in the Art and Science of Leadership
Published on: August 18, 2016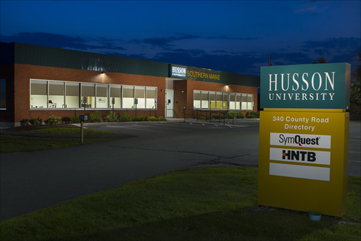 WESTBROOK, MAINE – August 18, 2016 – The Westbrook-based Southern Maine campus of Husson University announced today that they would begin offering a 15-week course in the art and science of leadership. Those who successfully complete the course will be eligible to receive a Certificate in Leadership. 
"Today's workforce is more complex and challenging than ever. A one-size-fits-all approach to managing and leading people isn't going to cut it anymore," said Charles Collins, Ed.D., executive director of Husson University's Division of Extended Learning – Westbrook.
"To reach your career goals and become a successful leader in today's global economy you need to lead from the heart and mind. It's all about motivating employees and making people-focused decisions that are thoughtful and empathetic while at the same time achieving meaningful outcomes."
In an effort to help professionals enhance their careers or move them to the next level, Husson University - Southern Maine will begin offering a 15-week course called "Leadership Certificate Course: The Art & Science of Leadership." Starting on September 21, 2016 and running until February 15, 2017, the program is designed to help students acquire the emotional and social intelligence skills needed to be successful. 
The curriculum will provide participants with insights into:
Improving leadership effectiveness
Leadership strengths
Emotionally intelligent and self-aware leadership practices
Ways to establish cultures of highly motivated employees
What it takes as a leader to "get to the next level"
Practices that make others feel valued, appreciated, and "listened to"
Business cultures that generate and value effective feedback 
"Everyone from high potential leaders and small business owners to front-line supervisors and managers would benefit from this certificate program. It's also great for aspiring leaders at the beginning of their careers or experienced employees who looking to get a leg up on the competition," continued Collins. "Participants will get timely information they can put into practice immediately from an instructor with both academic and real-world experience."
Vince Pelote will be the course instructor. Pelote received his Bachelor of Arts in economics from Boston College, and his Master in Business Administration from Suffolk University in Boston.
He has been involved with behavioral competencies since the 1980′s and has significant experience building healthcare-specific leadership models. His background includes coaching executives and organizational leaders on creating engaged, energized, and motivated employees.
Pelote was the lead researcher for a major leadership-training grant that was funded by the American Society for Training & Development (ASTD) and Hay/McBer. He also directed the research for and co-edited the book, "Masterpieces in Healthcare Leadership: Cases and Analysis for Best Practice."
He is currently the managing partner with daVinci Consulting, a leadership and executive coaching firm based in Portland, Maine. Pelote is an invited coaching and research member of the Society for Organizational Learning (SOL) and has successfully coached more than 200 leaders.
To register for "Leadership Certificate Course: The Art & Science of Leadership," visit Husson.edu/southern-maine. For more information, contact Charles Collins, Ed.D. at 207.874.5801 or email him at collinsc@husson.edu.
For more than 100 years, Husson University has prepared future leaders to handle the challenges of tomorrow through innovative undergraduate and graduate degrees. Today, Husson has over 4,000 alumni in Southern Maine and a network of more than 20,000 alumni nationwide. With a commitment to delivering affordable classroom, online and experiential learning opportunities, Husson University has come to represent superior value in higher education. Our Bangor campus and off-campus satellite education centers in Southern Maine, Wells, and Northern Maine provide advanced knowledge in business; health and education; pharmacy studies; science and humanities; as well as communication. In addition, Husson University has a robust adult learning program. For more information about educational opportunities that can lead to personal and professional success, visit Husson.edu.
Back to All Articles