100% of Husson University's Family and Community Nurse Practitioner Students Pass National Board Exams on First Try
Published on: August 24, 2016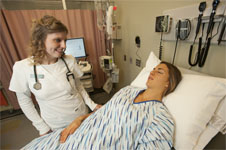 BANGOR, MAINE – August 24, 2016 – Husson University's College of Health and Education proudly announced today that every single graduate student in the Master of Science in Nursing/Family and Community Nurse Practitioner program (MSN-FCNP) passed their national board exams on their first try.
"We are very proud of our FCNP graduates, and all of the College of Health and Education faculty and staff who helped make this possible," said Assistant Professor Dr. Mary E. Jude, coordinator of graduate nursing programs. "Earning a national board pass rate of 100 percent clearly demonstrates that the graduate nursing program at Husson University does an outstanding job of preparing students for career success."
While every graduate of the Husson MSN-FCNP program was able to pass the rigorous national board exams, other individuals were not as fortunate. Nationally, only 86 percent of those who sit for the national exam pass it on the first try. In other words, one of every seven people fails this exam on their first attempt.
Having passed their exams, all of the Husson MSN-FCNP graduates are ready to become practicing family nurse practitioners. Each member of this year's class had significant prior experience as registered nurses. This is one the distinguishing characteristics of the MSN-FCNP program at Husson.
Other programs allow students to work toward an MSN without having earned a Bachelor of Science in Nursing (BSN). Those students can be behind the curve upon graduation. The growth in the number of aspiring nurse practitioners who immediately pursue a master's degree without first earning a bachelor's degree may help explain why pass rates for these exams have declined nationally.
Kassy Baig, a family nurse practitioner at Elmwood Primary Care in Waterville (associated with 
Maine General Medical Center) was one of the students in this year's graduating class. "The MSN-FCNP program at Husson University did a great job of preparing me to be a nurse practitioner," said Baig. "As my patients' primary care provider, I'm now able to diagnose illnesses, conduct examinations and help families enjoy healthier lives. Who knows? Maybe someday I'll have my own private practice."
Husson's MSN-FCNP program has a number of attributes that help students like Baig reach their full potential:
Professional Faculty. All faculty members who teach the clinical courses at Husson University have an active practice where they work several hours a week. The University believes that the best teachers are those who are practicing the profession.
Convenience. All courses in the MSN-FCNP program are online or "hybrid" in nature. Most courses meet synchronously online once monthly for 1-3 hours, with the remainder of coursework delivered asynchronously online.
Technology. Husson University uses the highest quality interactive video and web-based classroom sites.
Accreditation. Our Commission on Collegiate Nursing Education (CCNE) accreditation ensures that Husson's graduate nurse practitioner program meets the highest educational standards.
Hands-on Learning. Students enrolled in the program will complete nearly 700 internship hours. This emphasis on experiential learning helps to ensure that students are "workplace ready" upon graduation.
According to Dr. Rhonda Waskiewicz, OTR (ret.), dean of the College of Health and Education at Husson University, "Our graduate nursing program is one of the best in New England. The unique combination of advanced education and practical experience inherent in our MSN curriculum helps to make sure that our graduates are always ready to provide patients with the highest quality healthcare."  
For more than 100 years, Husson University has prepared future leaders to handle the challenges of tomorrow through innovative undergraduate and graduate degrees. With a commitment to delivering affordable classroom, online and experiential learning opportunities, Husson University has come to represent superior value in higher education. Our Bangor campus and off-campus satellite education centers in Southern Maine, Wells and Northern Maine provide advanced knowledge in business, nursing, physical therapy, occupational therapy, education, pharmacy studies, science and humanities, as well as communication. In addition, Husson University has a robust adult learning program. For more information about educational opportunities that can lead to personal and professional success, visit Husson.edu.
Back to All Articles