The Gracie Theatre at Husson University Announces Its Fifth Season
Published on: July 13, 2016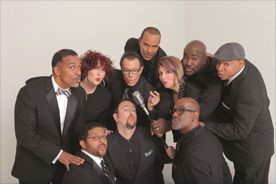 BANGOR, MAINE - The Gracie Theatre at Husson University is proud to announce the spectacular entertainment lineup for its fifth season. Together with founding sponsor Bangor Savings Bank, The Gracie kicks off its season on October 1 with a double-bill event featuring The Manhattan Transfer (TMT) and Take 6. Other acts booked for the coming year include the Joan Osborne Acoustic Duo, What's Going On: the Marvin Gaye Experience, and Disenchanted! - the musical. In addition to these acts, The Gracie will also feature a special Celtic holiday concert, the Matisse Jazz Project and puppet wizards.
"This season is filled with great music. The Manhattan Transfer and Take 6 boast a remarkable 20 Grammy Awards. Joan Osborne is one of the great voices of her generation. Equally fantastic is Brian Owens, whose soulful tribute has been called the 'second coming of Marvin Gaye,'" says Jeri Misler, managing director of the theatre.
"If that weren't enough, we are ending the season with a large scale, hilarious new musical called Disenchanted!, which is described as "Bridesmaids meets the Disney Princesses." You won't want to miss out. It's sure to be a great time!"
The season kicks off Saturday, Oct. 1 2016 with The Manhattan Transfer and Take 6 in a double-bill event entitled, "The Summit." No ordinary double bill, this show features unexpected twists and turns to create a once-in-a-lifetime event. The two groups embrace nearly every genre of popular music, including, jazz, swing, gospel and R&B. With crystal-clear harmonies, innovative arrangements, and funky grooves, the performance will showcase the depth and versatility of these performers. By the end of the evening, the audience will understand why this sextet is recognized as the preeminent a cappella group in the world!
Singer-songwriter Joan Osborne has rightfully earned a reputation as a commanding, passionate performer and a frank, emotionally evocative songwriter. She is widely known for her beloved hit song, "(What If God Was) One of Us," as well as her live performances of "What Becomes of the Brokenhearted" and "Heat Wave" in the Grammy Award-winning documentary Standing in the Shadows of Motown. Joan Osborne appears in concert on Saturday, November 5, 2016.
"What's Going On: The Marvin Gaye Experience" features the new voice of American soul, Brian Owens. It's a dazzling tribute to the legendary artist. Owens, who includes musical selections in a concert spanning the entirety of Gaye's music-making career, performs hits like "Can I Get a Witness", "I Heard It Through the Grapevine" and "You're All I Need to Get By." With a full band and Owens on vocals, this is a must-see show on Friday, March 31, 2017.
The not-for-children musical, Disenchanted!, gives a saucy makeover to Snow White, Sleeping Beauty and other fairy-tale princesses. Broadway Box raves, "Think 'Bridesmaids' for Disney Princesses! This sidesplitting adult musical of the Disney princess posse and its mega-talented cast will make you blush and feel nostalgia all at once." Disenchanted! will be at The Gracie for one night only on Saturday, April 22, 2017 with two shows at 5 p.m. and 8 p.m.
In addition to the four shows covered as part of the season ticket package, The Gracie is home to a series of special performances. This winter, Husson and the Gracie will celebrate the holidays with CÒIG: a Celtic holiday concert on Thursday, December 8, 2016. Còig, one of Atlantic Canada's premier traditional groups, is an ensemble of East Coast musicians with the fiery Celtic style as its musical core.
Còig easily shifts between century old tunes of past generations to original and contemporary compositions. The performance will feature over a dozen instruments (vocals, fiddles, piano, guitar, banjo, mandolin, viola, bouzouki, whistles, and more). With driving tunes, haunting songs, and infectious energy, Còig is an unparalleled musical force.
Kaytek the Wizard, a puppet show with music, will entertain audience members ages 10 and up during February break on The Gracie stage. Master puppeteer Brian Hull will perform the show. Hull wrote the script in collaboration with Sarah Hunt who wrote the music. Kaytek the Wizard is based on the recently translated 1933 book by Janusz Korcsak.
The show tells the story of a mischievous schoolboy who wants to become a wizard after discovering that he is able to perform magic spells and change reality. Revolving around the notion that power is not without responsibility, nor without repercussions, this story speaks to a child's dream of shaping the world to their own designs.
The Gracie's season is made possible with support from Bangor Savings Bank. The theatre gratefully acknowledges the generous support provided throughout the season by additional show sponsors including: Downeast Toyota, Four Points by Sheraton, the Dead River Company, WBRC Architects and Engineers, The Bangor Daily News, and The Maine Edge.
Season tickets are available at $140.00 for the four main shows, which entitles purchasers to premium seating for each show at a 30% discounted rate. Single show tickets are available at www.gracietheatre.com, Facebook, or by calling 207-941-7888. Tickets range in price from $15.00--67.00 depending on the fees and the show.
Completed in October of 2009, the Gracie is Husson University's center for the fine and performing arts. This beautiful 500-seat theatre is quickly earning a reputation as one of Maine's premier performance venues. In addition, the Gracie also serves as a learning platform for students from the New England School of Communications in digital audio, sound mixing, set design and construction, lighting, acting and electronics. For more information, visit GracieTheatre.com
For more than 100 years, Husson University has prepared future leaders to handle the challenges of tomorrow through innovative undergraduate and graduate degrees. With a commitment to delivering affordable classroom, online and experiential learning opportunities, Husson University has come to represent superior value in higher education. Our Bangor campus and off-campus satellite education centers in Southern Maine, Wells and Northern Maine provide advanced knowledge in business; health and education; pharmacy studies; science and humanities; as well as communication. In addition, Husson University has a robust adult learning program. For more information about educational opportunities that can lead to personal and professional success, visit Husson.edu.
Back to All Articles