Celebrate Husson! to Feature Dean Ford and The Keepsakes
Published on: June 20, 2016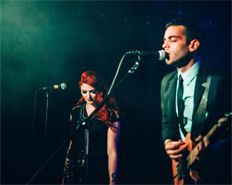 BANGOR, MAINE - If you're looking for weekend family fun, make plans to Celebrate Husson! on Saturday, June 25. With food, music, a color run, and activities for children, the event is sure to appeal to Bangor area residents of all ages.
The event will feature a musical performance by Dean Ford and The Keepsakes from 12:00 p.m. – 3:30 p.m. Considered by many to be New England's premier party band, this show will be filled with the biggest and most current pop/dance hits, along with a handful of throwback classics.
Ford, a pop singer, songwriter, musician, and producer from Portland, Maine, has performed hundreds of live shows including playing as direct support for national bands Panic! At The Disco, Foxy Shazam, Fitz & The Tantrums, and Aaron Carter. The free concert will take place on an outdoor stage next to the Richard E. Dyke Center for Family Business on the campus of Husson University and is sponsored by Downeast Toyota.
"We're excited to invite the community and our loyal alumni to this outdoor festival on our Bangor campus," said Vice President of Advancement Sarah Cary Robinson. "Hosting this event is a way to express our appreciation to the people of Bangor for their support and simultaneously showcase all that Husson has to offer."
Participants in the "Run for the Gold" color walk/run will take over campus as part of Celebrate Husson! from 10 a.m. – 12 p.m. This untimed walk/run is a chance for participants to dress up, get colorful, and have fun. As participants pass through color zones at different spots along the course, they will be covered in Husson "spirit," made from cornstarch. Registration for this event is $10.
Immediately following the color/walk run will be the outdoor festival. In addition to Dean Ford and The Keepsakes, the festival will feature food trucks, vendors, and activities for children.
Admission is free to the outdoor festival. Children's activities include a bouncy house, painting, and a variety of games.
Husson alumni are invited to reconnect, reminisce, and re-engage as part of the University's 10th, 25th, 50th Class Reunion from 4 p.m. – 5:30 p.m. in the G. Peirce Webber Campus Center in Peabody Hall. During the gathering, members of the classes of 2006, 1991, and 1966 will honor both the Husson of yesteryear and the Husson of today.
As Celebrate Husson! moves into the evening, attendees will have even more opportunities for great food and music.
The Green and Gold Lobster Bake will take place in a tent next to the Beardsley Meeting House at 5:30 p.m. While the Lobster Bake will feature servings of everyone's favorite crustacean, those who prefer non-lobster choices can feast on other sumptuous summer selections, including chicken and burgers. Tickets for the Green and Gold Lobster Bake are $20 per person. Husson University has also instituted a kid's price of $12 per child for all children 12 and under who won't be eating lobster. There are a limited number of tickets left for the lobster bake so those who are interested are encouraged make their reservations soon.
Celebrate Husson! concludes with music from Los Lonely Boys. Part of the Waterfront Concert Series, this 7:30 p.m. performance in Husson University's Gracie Theatre features a trio from San Angelo who play "Texican Rock n' Roll," a combination of rock and roll, Texas blues, brown-eyed soul, country, and Tejano. The group's debut single, "Heaven," was a number one hit on the Billboard adult contemporary chart and reached the Top 40 on the Billboard Hot 100 in 2004. Tickets for Los Lonely Boys are $50 per person.
Those who choose to attend both the Lobster Bake and the Los Lonely Boys concert are eligible to purchase combined tickets at a reduced price. Tickets for adults to both events are available for $60 – a 15 percent savings. To register for all or part of Celebrate Husson!, visit Husson.edu/AlumniEvents.
For more than 100 years, Husson University has prepared future leaders to handle the challenges of tomorrow through innovative undergraduate and graduate degrees. With a commitment to delivering affordable classroom, online and experiential learning opportunities, Husson University has come to represent superior value in higher education. Our Bangor campus and off-campus satellite education centers in Southern Maine, Wells, and Northern Maine provide advanced knowledge in business; health and education; pharmacy studies; science and humanities; as well as communication. In addition, Husson University has a robust adult learning program. For more information about educational opportunities that can lead to personal and professional success, visit Husson.edu.
Back to All Articles