Bar Harbor Trust Executive Named Vice President of Advancement at Husson University
Published on: June 17, 2016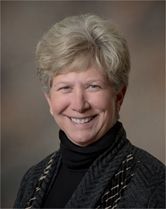 BANGOR, MAINE - Husson University has named Sarah Cary Robinson as their new vice president of advancement. Prior to joining the University, Robinson was a vice president and trust officer at Bar Harbor Trust Services where she specialized in consulting with non-profits about charitable gift planning.
In her new role, Robinson will be responsible for leading the University's advancement division. This includes alumni relations, major gifts, and planned giving efforts. She was selected after an extensive national search.
"Sarah brings energy, passion, and a wealth of knowledge to her newly appointed position as vice president of advancement," said Husson President Dr. Robert A. Clark. "Her in-depth experience in charitable giving with banking and non-profit organizations will be an enormous asset to our university as we look to develop the financial resources necessary to begin construction of a new home for our College of Business."
Clark continued: "Creating this new facility is just one of the initiatives we are working on as part of our $30 million 'Shaping Our Future' fundraising campaign. Once completed, this campaign will provide our campus with additional scholarships, new faculty, and other important resources needed to profoundly transform students' lives."
Prior to her position at Bar Harbor Trust Services, Robinson worked at several other colleges and non-profit institutions on annual fund, capital campaign and planned giving fundraising efforts. She graduated from Bowdoin College in 1985 with a Bachelors of Arts degree in geology/environmental studies.
"I said I would never return to a fundraising position unless the organization was very special to me personally," said Robinson. "Husson University is truly exceptional. Their selfless dedication to inspiring, engaging, and empowering students for professional careers in current and emerging fields has touched my heart and soul."
Robinson concluded: "While I chose to join Husson because of who the college is today, it's the potential to impact students' tomorrows that makes it exciting for me to come to work every day."
For more than 100 years, Husson University has prepared future leaders to handle the challenges of tomorrow through innovative undergraduate and graduate degrees. With a commitment to delivering affordable classroom, online and experiential learning opportunities, Husson University has come to represent superior value in higher education. Our Bangor campus and off-campus satellite education centers in Southern Maine, Wells, and Northern Maine provide advanced knowledge in business; health and education; pharmacy studies; science and humanities; as well as communication. In addition, Husson University has a robust adult learning program. For more information about educational opportunities that can lead to personal and professional success, visit Husson.edu.
Back to All Articles