The Gracie Theatre to Host an Advance Screening of "The Endless Ends"
Published on: May 3, 2016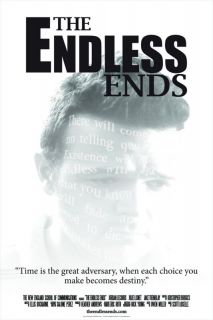 BANGOR, MAINE - The Gracie Theatre at Husson University will host an advance screening of "The Endless Ends," a 28-minute, original, student-produced motion picture on Tuesday, May 3, 2016 at 7:30 p.m. A coffee and desserts reception will immediately precede the screening starting at 7 p.m. Those attending the reception and the screening of "The Endless Ends" are encouraged to add glamour and excitement to this event by dressing in a semi-formalwear.
Unlike previous year-end NESCom presentations that have been based on the works of noted authors J.K. Rowling and Stephen King, "The Endless Ends" is an original screenplay written by Kris Bridges, a member of the faculty at Husson University's New England School of Communications.
"This video presentation effective captures three important themes," said Bridges. "First, we are all running out of time to accomplish what we want. Second, every decision should count. Every wrong decision has the potential to cause all-consuming regret for each of us. Finally, the screenplay tries to convey the importance of family peace and that this peace cannot be achieved without forgiveness."
Filmed entirely in Maine, this dramatic presentation is about a recovering alcoholic in a substance abuse program who wants to make amends with his family before the world ends. Over the course of the story, the audience will be taken on an emotional journey that addresses youthful rebellion, midlife regret, and impending death. The film stars Jordan LeCours, Julie Lisnet, Jake Tremblay, and Steve Estey.
"I'm very proud of these presentations. Our students were responsible for everything necessary to complete these films," said Thom Johnston, dean of the New England School of Communications at Husson University. "The outstanding creativity and production values inherent in these student projects are a testament to the quality of media education available to aspiring film and television professionals through the New England School of Communications. This will be a night of memorable entertainment!"
In addition, the audience will get a sneak preview of the new original NESCom comedy, "Partners in Crime."

Those that attend should be aware that "The Endless Ends" contains brief instances of strong language and drug usage as part of the content. A question and answer session will be held after each screening. The directors and producers will be available during these sessions to answer questions about the filmmaking process.
This is not the first time NESCom has shared an outstanding student production with the public. In 2011-2012, the students of NESCom completed an adaption of Stephen King's "The Last Rung on the Ladder," which went on to win "Best Film in Maine" at the Lewiston Auburn Film Festival.
The short-film adaptation of "The Tale of the Three Brothers" was filmed in various Maine locations during the Fall 2013 semester with post-production and editing completed in Spring 2014.
The screenings are free and open to the public. The Gracie will be observing festival seating for these presentations. Those who arrive first, get to choose their seats first.

The New England School of Communications (NESCom) at Husson University, located in Bangor, Maine, offers Bachelor of Science degrees in Communications Technology, Entertainment Production and in Mass Communication. Within these degrees, students may choose from concentrations in audio engineering, live sound technology, video production, webmedia, journalism, marketing communications, radio broadcasting, entertainment production, and sports journalism. NESCom at Husson University specializes in communications, providing students with a hands-on experience that gives them the education and skills needed for today's job market.
For more than 100 years, Husson University has prepared future leaders to handle the challenges of tomorrow through innovative undergraduate and graduate degrees. With a commitment to delivering affordable classroom, online and experiential learning opportunities, Husson University has come to represent superior value in higher education. Our Bangor campus and off-campus satellite education centers in South Portland, Wells, and Presque Isle provide advanced knowledge in business; health and education; pharmacy studies, science and humanities; as well as communication. In addition, Husson University has a robust adult learning program. For more information about educational opportunities that can lead to personal and professional success, visit Husson.edu
Back to All Articles