Senator Angus King to Deliver Husson University Commencement Address
Published on: May 4, 2016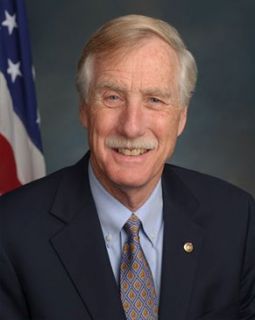 BANGOR, MAINE - Attorney, business executive, Governor and United States Senator: few individuals can cite as many career accomplishments as Senator Angus King. On Sunday, May 8, 2016 at 2 p.m. ET, Senator King will deliver the Commencement address to the Class of 2016 at Husson University's 117th Annual Commencement Exercises at the Cross Insurance Center in Bangor, Maine.
"Our graduation ceremony is a way to honor graduates and their academic accomplishments," says Husson University President Robert A. Clark, Ph.D. "Having a speaker of Senator King's stature delivering our Commencement address will make this a memorable day for our graduates and their families."
About Commencement
Husson's graduation ceremony will recognize individuals who have completed their degrees from Husson University's College of Business, College of Health and Education, New England School of Communications (NESCom), School of Pharmacy and the School of Science and Humanities. At this year's Commencement, Husson will award 775 degrees including 21 associate degrees, 484 bachelor's degrees, 185 master's degrees and 85 doctorates.
The Cross Insurance Center is located at 515 Main Street in Bangor, Maine. Individuals traveling to graduation from outside the area who need help finding accommodations are encouraged to contact the Bangor Convention and Visitors Bureau at (207) 947-5205.
The commencement ceremony begins at 2:00 p.m. Guests not marching in the ceremonies are encouraged to arrive at the Cross Insurance Center by 1:30 p.m. Early arrival is recommended to avoid traffic congestion and to obtain choice seating. Tickets are not required. Those who arrive first, get to choose their seats first. Individuals with special needs should call (207) 941-7129 or email greenj@husson.edu so Husson University can make the appropriate arrangements. Those who cannot attend are welcome to view the ceremony via streamed video online. More information about the streaming video and ceremonies is available at www.husson.edu.
Commencement Academic Honors
Husson University also announced today Danielle M. Violette of Caribou, Maine will be the Class of 2016's salutatorian. Violette earned a Bachelor of Science in business administration and a Master of Business Administration (MBA) while maintaining a grade point average of 3.977.
For the first time in Husson's history, three students are being named valedictorian.
The students include Stephen A. Coston of Bar Harbor, Maine. Coston earned a Bachelor of Science in business administration. Other students being named valedictorian include Sarah M. Smith of Calais, Maine who earned a Bachelor of Science in psychology and Mikala Elizabeth Varela of Westbrook who earned a Bachelor of Science in accounting and a Master of Business Administration (MBA). All three of these members of the Class of 2016 had a grade point average of 4.0.
More Information about Senator Angus King
On January 3, 2013, Angus S. King, Jr. was sworn in as Maine's first Independent United States Senator. He began his career as a staff attorney for Pine Tree Legal Assistance in Skowhegan. In 1972, he served as chief counsel to U.S. Senate Subcommittee on Alcoholism and Narcotics in the office of former Maine Senator William Hathaway.
In 1975, he returned to Maine to practice law with Smith, Loyd and King in Brunswick. In 1983, he was appointed Vice President of the Swift River/Hafslund Company, an alternative energy development company working on hydro and biomass projects in Maine and New England.
Six years later, he founded Northeast Energy Management, Inc., a developer of large-scale energy conservation initiatives at commercial and industrial facilities in Maine.
In 1994, Senator King was elected Maine's 72nd Governor. During his two terms in Blaine House, King focused on economic development and job creation. He also achieved significant reforms in education, mental health services, land conservation, environmental protection, and the delivery of state services.
He was re-elected in 1998 by one of the largest margins in Maine's history.
Senator King graduated from Dartmouth College in 1966 and from the University of Virginia Law School in 1969. He is married to Mary Herman and has four sons, Angus III, Duncan, James, and Ben, one daughter, Molly, and six grandchildren.
This is not the first time Senator King has participated in educational events at Husson University. In February 2015, Senator King spoke at a Husson University breakfast event where he shared his thoughts on the 114th Congress. As a candidate running for office, he has also participated in debates at Husson University in an effort to help the public better understand his positions on a variety of issues.
Traffic Alert
Interstate 395 will be closed beginning on Friday, May 6. Anyone traveling to Bangor for Husson University's Commencement should find an alternate route to get to the Cross Insurance Center for graduation. While the Department of Transportation has established a detour route, there could be considerable delays. Be sure to allow extra time to arrive at the commencement ceremony.
For more than 100 years, Husson University has prepared future leaders to handle the challenges of tomorrow through innovative undergraduate and graduate degrees. With a commitment to delivering affordable classroom, online and experiential learning opportunities, Husson University has come to represent superior value in higher education. Our Bangor campus and off-campus satellite education centers in Southern Maine, Wells, and Northern Maine provide advanced knowledge in business; health and education; pharmacy studies; science and humanities; as well as communication. In addition, Husson University has a robust adult learning program. For more information about educational opportunities that can lead to personal and professional success, visit Husson.edu.
Back to All Articles