Husson University First College in the Country to Pilot and Rollout POM Devices to Prevent Sexual Assaults
Published on: May 17, 2016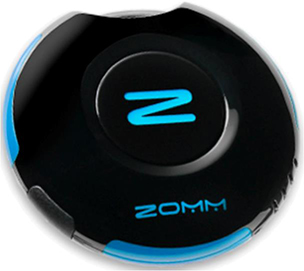 BANGOR, MAINE – May 17, 2016 – Since October of 2015, Husson University has been the site of an extensive pilot program with the Peace of Mind Company to test a keychain-sized, POM personal security device that calls campus safety and security with the touch of a button. Today, the University announced, after thoroughly testing the device, that it is making this technology available to all members of the university community who are interested in subscribing to this annual service.
"Safety in the classroom, office and other public spaces is always an important priority for Husson University," said Executive Director of Safety and Security Raymond Bessette. "We believe that the addition of the POM device and subscription to our current security regimen will provide an added measure of safety and security on our campus."
When the POM device is activated, it sends a GPS location, profile information, and the student's picture to Husson Safety and Security. With a $45 annual subscription, members of Husson's campus community can choose between a Silent POM that emits no sound when activated or a Signal POM that beeps and buzzes when activated. The Signal POM also offers two-way communication with Husson's Safety and Security dispatcher. The Silent POM, on the other hand, allows the dispatcher to hear communication but does not allow the signal activator or anyone near this individual to hear the dispatcher.
The U.S. Department of Education's Campus Safety and Security Data Analysis Cutting Tool continues to show that Husson University has one of the lowest levels of campus crime in Maine. "Our University continues to be one of the safest campuses in the country and we want it to stay that way," continued Bessette. "One sexual assault on campus is one too many. We're hoping that this device can help make our already safe campus, even safer."
Husson has installed and trained their Safety and Security dispatchers on the specially designed POM software that shows the location, picture and profile information of anyone who activates the device. The device pairs easily with a Bluetooth-enabled mobile phone. If a student or other member of the Husson community activates the device while they are off campus, the software automatically redirects the signal to local law enforcement.
This device has several unique advantages. Unlike the call boxes currently on many college campuses, anyone who feels threatened carries the ability to initiate emergency communication immediately from wherever they are. Since activating the POM device only requires pushing one button, those in danger need not worry about trying to dial when calling for help. This will allow individuals to be in communication with emergency assistance immediately.
Members of campus Safety and Security will have copies of the POM app on their iPhones and Androids. This will allow them to use the GPS feature to quickly find those in need of assistance if the situation demands that those in danger move as they are calling for help.
In addition to sexual assault prevention, the POM device has applications to other campus situations. Individual can also activate the device when they:
Feel unsafe in a classroom or office
Need a virtual-walking escort
Need to call for an in-person walking escort
Have a health emergency
Are lost
See suspicious activity, a threatening situation or witness a crime
See someone who needs help.
Members of the Husson community interested in signing up for this service are asked to visit www.POM-CO.com/husson.
For more than 100 years,
Husson University
has prepared future leaders to handle the challenges of tomorrow through innovative undergraduate and graduate degrees. With a commitment to delivering affordable classroom, online and experiential learning opportunities, Husson University has come to represent superior value in higher education. The Bangor campus and satellite education centers in Southern Maine, Wells, and Northern Maine provide advanced knowledge in business; health and education; pharmacy studies; science and humanities; as well as communication. In addition, Husson University has a robust adult learning program. For more information, visit
Husson.edu
.
Back to All Articles