Husson University to Confer Three Honorary Degrees at Commencement
Published on: May 6, 2016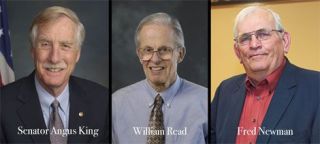 BANGOR, MAINE - At its 117th Annual Commencement Exercises on Sunday, May 8, 2016 at the Cross Insurance Center in Bangor, Maine, Husson University will confer honorary doctorates on three persons who have distinguished themselves in government, energy technology and business education.
Honorary Degree Recipients

In addition to delivering the keynote Commencement address, United States Senator Angus S. King Jr. will receive an honorary Doctor of Science degree in recognition of his service to Maine and our nation.
King began his career as a staff attorney for Pine Tree Legal Assistance in Skowhegan. In 1972, he served as chief counsel to U.S. Senate Subcommittee on Alcoholism and Narcotics in the office of former Maine Senator William Hathaway.
Three years later, he returned to Maine to practice law with Smith, Loyd and King in Brunswick. In 1983, he was appointed Vice President of the Swift River/Hafslund Company, an alternative energy development company working on hydro and biomass projects in Maine and New England.
Six years later, he founded Northeast Energy Management, Inc., a developer of large-scale energy conservation initiatives at commercial and industrial facilities in Maine.
In 1994, Senator King was elected Maine's 72nd Governor. During his two terms in Blaine House, King focused on economic development and job creation. He also achieved significant reforms in education, mental health services, land conservation, environmental protection, and the delivery of state services. He was re-elected in 1998 by one of the largest margins in Maine's history.
On January 3, 2013, King was sworn in as Maine's first Independent United States Senator.
Fred Newman
Another person who will receive an honorary degree is Fred Newman, the grandson of William Newman, for whom Husson University's Newman Gymnasium is named. Fred is very proud of his family's association with the gym.
The family's commitment to Husson does not stop at the gymnasium. Fred's uncle, who was a local banker, created a scholarship in the family's name. In addition, Fred has been a member of the Husson University Board of Visitors since 2014.
For nine years, Fred worked for Schlumberger Well Services, living in various places in the United States and Canada until his family relocated to Midland,Texas where he worked as District Manager. For the next 35 years, Fred was an independent business owner. He taught a Completions and Workover course to engineers and owned eight small businesses.

His first business was a Cessna dealership and flight school. Most of his other businesses provided oil and gas services. Fred sold one of his businesses, a drilling company, to his children who eventually sold it to a larger company.

Today, Fred is semi-retired. He continues to develop patents as he manages oil and gas properties. Fred currently holds 86 patents and has authored over 15 papers dealing with various technical issues in the oil industry.

He served as a Boy Scout leader for five years. He was on the board and president of the Midland Association of Retarded Citizens, known today as MARC Empowering Lives. Fred has also given of his time to the Midland Independent School District Board and was the founder of Gifts of Hope, where he helped form the Hope House in 2006. This home provides living space for cancer patients while they are receiving treatment.

In 2010, the Newmans were voted Philanthropic Family of the Year in Midland, Texas.

Fred graduated from Northwestern State University with a degree in physics. He and his wife, Chris, grew up in Louisiana. They were high school sweethearts and have been married for 52 years. They have four children, James, Holly, Nancy, and Steve, and eight grandchildren.
William Read
William "Bill" Read is an associate professor in Husson University's College of Business and the University's longest serving professor. He received his undergraduate degree in business from American International College in Springfield, Massachusetts. Read continued his education at the University of Connecticut, where he earned his master's degree in business. Returning again to American International College, he focused on post-graduate work in business. Read began his career in the insurance industry before finding his niche in higher education.
After meeting Clara Swan at a 1965 conference, Read moved to Maine from Massachusetts to begin his career with Husson College (now Husson University).
In 1966, Read taught business law and management courses at Husson's downtown Bangor location and subsequently moved to the current campus at One College Circle when it was built in 1968.
In the early 70s, Read worked to establish Husson's first external sites for degree completion in Portland and York Beach. He has always championed student success and believes that the secret to launching a successful career is gaining exposure to the real world through internships.
His longevity in the classroom is remarkable. Read has helped enlighten young minds for over 50 years.
In addition to his commitment to teaching, Read has also been the editor-in-chief of the Business Law Review Journal since 1968. This peer-reviewed publication is read nationwide by over 600 subscribers and garners article contributions from professors and professional practitioners from all over the world. This journal is recognized as the publication for the North Atlantic Regional Business Law Association (NARBLA) and is produced by Husson University.
Read has cultivated and mentored many professors in their writing, publication and editorial work with the journal from all over New England and beyond. The 49th edition of the Business Law Review Journal will be published this year.
Commencement
All three of these individuals will receive their honorary degrees as part of Husson University's 117th Annual Commencement Exercises on Sunday, May 8, 2016 at the Cross Insurance Center in Bangor, Maine. The Cross Insurance Center is located at 515 Main Street in Bangor, Maine. The commencement ceremony begins at 2:00 p.m.
For more than 100 years, Husson University has prepared future leaders to handle the challenges of tomorrow through innovative undergraduate and graduate degrees. With a commitment to delivering affordable classroom, online and experiential learning opportunities, Husson University has come to represent superior value in higher education. Our Bangor campus and off-campus satellite education centers in Southern Maine, Wells, and Northern Maine provide advanced knowledge in business; health and education; pharmacy studies; science and humanities; as well as communication. In addition, Husson University has a robust adult learning program. For more information about educational opportunities that can lead to personal and professional success, visit Husson.edu.
Back to All Articles