Husson University on Track to Enroll Largest Undergraduate Class in History
Published on: May 10, 2016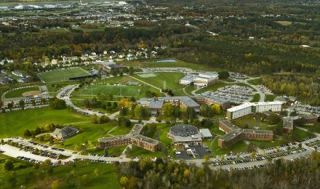 BANGOR, MAINE - After tabulating the most recent data associated with applications and deposits received as of the first week of May, Husson University announced today that the university is on track to enroll the largest class in their 118-year history.
Husson received over 2,700 applications for the fall of 2016. That's the largest application pool in the university's history and represents an increase of 16.3 percent over the previous year.
While impressive, Husson President Robert A. Clark feels that the University will be growing more in the future. "Most people are still not aware that Husson University offers the same great affordable tuition to both in-state and out-of-state residents. As the lowest, net-priced, private, four-year college in Maine accredited by the New England Association of Schools and Colleges (NEASC), Husson is an attractive choice for anyone seeking a great professional education at an affordable price."
Although the majority of Husson's enrollment is composed of Maine students, the university's appeal continues to expand beyond the state's borders to neighboring New England states and other countries. This year, student applications from other New England States increased by over 17 percent, and 25% of the Fall 2016 entering class is expected to come from out-of-state.
The university also tripled the number of international applications this year. Applications have been received from 33 nations - a 57 percent increase in the number of countries represented in the international pool. This growth reflects the university's ongoing commitment to preparing students for the global economy.
The application numbers are just part of the story. Deposits received from students are a clear indicator of who plans to attend in the fall. This year's deposits are stronger than ever before.
Enrollment deposits are up more than 14 percent compared to last year. This includes a strong response from students here in Maine. Deposits from Maine students are up 16.4 percent, a significant trend given the demographics of a decline in the number of Maine's high school graduates.
Remarkably, Husson was able to simultaneously grow enrollments and deposits, while attracting students with even stronger academic records. In other words, Husson University isn't just attracting more students; it's also attracting higher quality students.
According to the most recent data, the entering first-year class for this coming fall has the strongest academic record of any class ever enrolled at Husson. The number of applicants qualifying for academic-based merit scholarships among those who sent enrollment deposits, is higher than at any time in the university's history.
In reviewing this trend, Vice President of Enrollment Management Jonathan Henry said, "Husson's continued growth, particularly during the last decade, has been phenomenal. Over the last four years, we have made strategic investments that built on this success and allowed us to expand our reach into new markets. The fact that we have already exceeded our Fall 2016 enrollment forecast is proof that there is demand for the professional degree programs available at Husson University."
Other factors have also contributed to Husson University's recent growth. They include:
• The addition of new programs that address the needs of students and employers.
• Significantly higher levels of recruitment outreach, including a strong campus visitation program.
• Increased branding and marketing efforts, with a focus on building awareness in Southern New England, the Mid-Atlantic, and International markets.
• Enhanced scholarship awards to applicants regardless of geographic origin.
• Partnerships with alumni that promote the value of a Husson education through regional receptions and on-campus activities.
All of these efforts, combined with a winning retention strategy are proving to be a formula for success at Husson. The retention of current first-year students is the highest ever recorded at nearly 80 percent.
"All of the pieces are coming together to make the 2016-2017 academic year at Husson University one of our best ever," continued Clark. "With a strong balance sheet, plans for a new College of Business building and the support of alumni, Husson University is heading into coming academic year with optimism and pride."
For more than 100 years, Husson University has prepared future leaders to handle the challenges of tomorrow through innovative undergraduate and graduate degrees. With a commitment to delivering affordable classroom, online and experiential learning opportunities, Husson University has come to represent superior value in higher education. Our Bangor campus and off-campus satellite education centers in Southern Maine, Wells, and Northern Maine provide advanced knowledge in business; health and education; pharmacy studies; science and humanities; as well as communication. In addition, Husson University has a robust adult learning program. For more information about educational opportunities that can lead to personal and professional success, visit Husson.edu.
Back to All Articles