Husson University Journalism Students Collect Maine WWII Veterans Interviews for the Library of Congress
Published on: May 1, 2016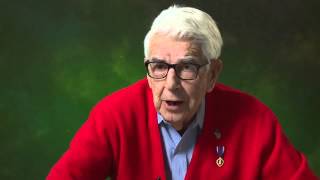 BANGOR, MAINE – 
BANGOR, MAINE - Students in New England School of Communications' (NESCom) Journalism Program at Husson University interviewed four Maine WWII veterans as part of the Library of Congress' Veterans History Project (VHP). The recorded interviews will be part of the Library's permanent collection.
A news conference featuring the four veterans will be held on Husson University's campus on May 2 at 11:00 a.m. at the Wildey Communications Center (NESCom Building). Members of the media are welcome to attend and learn more about the project. Veterans and participating students will be available for interviews.
"World War II was a conflict that defined a generation here in the United States," said Jeffrey Hope, an instructor in NESCom's journalism program. "A project like this gives journalism students an opportunity to interview individuals who were a part of history. This experience gave our students insights into interview techniques and a war that changed the world."
Veterans Galen Cole, Norman Rossignol, Paul Wilbur, and Harold Beal were contacted through Cole Land Transportation Museum and interviewed at Husson University's New England School of Communications. Rossignol, a Bangor vet who served in World War II and the Korean War, when asked what he learned in the military responded, "It made me value life… I'm not rich, but I'm comfortable."
The Veterans History Project of the Library of Congress' American Folklife Center is an oral history program that preserves the personal accounts of America's wartime veterans. It is designed to help future generations better understand the realities of war from those who served their country during armed conflicts. The interviews will also be invaluable to future scholars and researchers who are interested in better understanding the World War II experience from the service person's perspective.
The United States Congress created the Veterans History Project in 2000. The authorizing legislation (Public Law 106-380), sponsored by Representatives Ron Kind, Amo Houghton, and Steny Hoyer in the U.S. House of Representatives and Senators Max Cleland and Chuck Hagel in the U.S. Senate, received unanimous support and was signed into law by President William Jefferson Clinton on October 27, 2000.
The New England School of Communications (NESCom) at Husson University offers Bachelor of Science degrees in Communications Technology, Mass Communications and Entertainment Production. Within these degrees, students may choose from concentrations in Audio Engineering, Live Sound Technology, Video Production, WebMedia, Journalism, Marketing Communications, Radio Broadcasting, Entertainment Production, and Sports Journalism. The New England School of Communications specializes in communications, providing students with a hands-on experience that gives them the education and skills needed for today's job market.
For more than 100 years, Husson University has prepared future leaders to handle the challenges of tomorrow through innovative undergraduate and graduate degrees. With a commitment to delivering affordable classroom, online and experiential learning opportunities, Husson University has come to represent superior value in higher education. Our Bangor campus and off-campus satellite education centers in South Portland, Wells, and Presque Isle provide advanced knowledge in business; health and education; pharmacy studies, science and humanities; as well as communication. In addition, Husson University has a robust adult learning program. For more information about educational opportunities that can lead to personal and professional success, visit Husson.edu
Back to All Articles