Husson University Art Exhibitions Showcase Student Creativity
Published on: May 2, 2016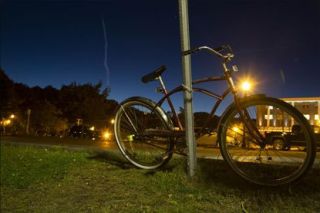 BANGOR, MAINE - Husson University announced today that it will be hosting two exhibitions of student artwork at the beginning of May. The works displayed at these exhibitions are some the finest examples of student creativity.
"Art lovers throughout the Greater Bangor area should make it a point to visit Husson and see what our students have created," says Kathi J. Smith, an assistant professor of studio arts and art appreciation at Husson University. "The fine arts faculty and I have selected the best student work produced during the semester for inclusion in these exhibitions."
The first exhibit is a "Selected Student Work" show at the White Gallery in Husson's Campus Center. Located in Peabody Hall, the exhibition in the Campus Center will run through May 3.

In addition, the Bi-Annual Hart Open Studio Event - Open House/Student Showcase is scheduled for May 2 from 2 p.m. - 6 p.m. in the Hart Studio (basement of Hart Hall). Light refreshments will be served at 4 p.m.
Both of these events feature the creative expressions of Husson students in arts-related courses. The show is a collaborative effort by the School of Science and Humanities and the New England School of Communications. The showcase in Hart Studio is also serving as a Grand Opening event where members of the public and Husson's campus community can see the newly renovated space.
A wide variety of creative mediums will be represented at these exhibitions. Student drawings, paintings, pastels, photography, graphic design, set design, collages, assemblages and batik prints will be on display. The exhibitions are free and open to the public.
"These showcases are designed to give students an opportunity to share their work with the public," continued Smith. "It's also an opportunity to highlight some of the exceptionally talented students at Husson University."

Public exhibitions are a valuable part of the art educational experience. They serve as venues where students can exchange creative ideas with their peers and receive feedback from members of the public.
Students who are contributing the creativity to these shows participated in one or more of the following courses:
FA 101 - Art and Human Experience
FA 205 - Painting 1
FA 299 - Art and Childhood Development
FA 120 - Drawing 1
FA 299 - The Art of Cartooning
CT 245 - Photography
MC 245 - Graphic Design I
MC 335 - Graphic Design II
EP 448 - Final Portfolio & Proficiency Review
About the Robert E. White Gallery at Husson University
Artists who work in every possible medium including watercolors, still lifes, oil paintings, pastels, sculptures, acrylics, photographs and etchings, are featured at the Robert E. White Gallery.
With a new show approximately every eight weeks, the gallery provides students with a glimpse at how artists with ties to Maine express themselves, giving them added insight into the place where they've chosen to go to school. The gallery was established in 1992 and named for, and endowed by, Husson alumni and former Board of Trustees Chair Robert E. White '65.
The Robert E. White Gallery is free and open to the public, Monday through Friday, from 8:30 am to 4:30 pm. It is located in Peabody Hall on the campus of Husson University at 1 College Circle, Bangor, ME. For additional information contact: robertewhitegallery@husson.edu.
For more than 100 years, Husson University has prepared future leaders to handle the challenges of tomorrow through innovative undergraduate and graduate degrees. With a commitment to delivering affordable classroom, online and experiential learning opportunities, Husson University has come to represent superior value in higher education. Our Bangor campus and off-campus satellite education centers in Southern Maine, Wells, and Northern Maine provide advanced knowledge in business; health and education; pharmacy studies; science and humanities; as well as communication. In addition, Husson University has a robust adult learning program. For more information about educational opportunities that can lead to personal and professional success, visit Husson.edu
Back to All Articles