$1 Million Anonymous Gift Will Support Virtual Reality Learning Space at Husson University
Published on: May 23, 2016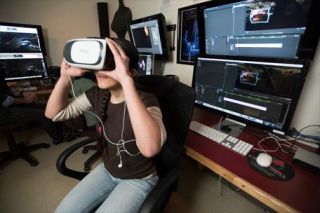 BANGOR, MAINE - Husson University announced today that it received a $1 million gift from a source who wishes to remain anonymous. The gift will be used to create a new interdisciplinary learning space for students enrolled at Husson's New England School of Communications (NESCom) and College of Business. Once completed, this facility will be dedicated to the conceptualization, marketing, management, and production of virtual reality presentations. The learning space will be a part of the Innovation Wing in Husson's proposed new College of Business building.
In extending the appreciation of the University community for this generous gift, President Robert Clark noted that the gift from a member of the business community reflects a strong commitment to the vision of excellence in professional academic programs that Husson offers. "It's a terrific reflection of the confidence that the donor has in supporting Husson's future and ensuring that its mission of professional education is enhanced."
"Students at the New England School of Communications and the College of Business will both benefit once this innovative new learning facility is completed," says Husson University College of Business Dean Marie Hansen, Ph.D. "It will give Husson the infrastructure we need to promote the interdisciplinary study of virtual reality."
Hansen continued: "Virtual reality has so many workplace applications. Marketing, healthcare, education, science and other disciplines could all one day be using virtual reality to help increase their organizations' productivity and profitability. Technology like this helps keep NESCom students current and ensures that they'll be work-ready upon graduation."
The $1 million gift covers the advanced software and hardware that will need to be integrated into this space. Constructing this facility in the proposed College of Business building is also more cost effective than trying to add a new wing to the existing Wildey Communications Center.
"Giving students the opportunity to engage in hands-on learning with cutting-edge technology is what NESCom is all about," said Edward Goguen, academic director and assistant professor/audio coordinator at the New England School of Communications at Husson University. "In my experience, innovative thinking when combined with the latest communication tools, gives students the educational foundation they need to achieve career success."
Advancement Vice President Sarah Cary Robinson feels that this gift is as innovative as the technology it supports: "How appropriate that this lead gift for the Innovation Wing of the new College of Business building represents its own form of innovation. Our benefactor wished to support two seemingly divergent focus areas - communications and business. We came together and talked about programs and synergies. In the end, we were able to structure a gift with a single focus that will strengthen learning opportunities for both NESCom and the College of Business. Now that's innovation! As we move forward raising funds for the College of Business building, we look forward to similar conversations with other individuals who understand and support our vision."
Husson University's College of Business delivers an array of degree programs and certificate offerings in accounting, business and management, criminal justice, hospitality and tourism management, information technology (computer information systems and software development), legal studies, paralegal studies, and sport management. The College is home to a dedicated faculty who are role models both inside and outside of the classroom. In addition to impressive educational backgrounds, they have extensive expertise in companies, on boards, or as consultants. Faculty members enhance student learning by relating their external practices to their academic courses.
The New England School of Communications (NESCom) at Husson University offers Bachelor of Science degrees in communications technology, mass communications, and entertainment production. Within these degrees, students may choose from concentrations in audio engineering, live sound technology, video production, webmedia, journalism, marketing communications, radio broadcasting, entertainment production, and sports journalism. The New England School of Communications at Husson University specializes in communications, providing students with a hands-on experience that gives them the education and skills needed for today's job market.
For more than 100 years, Husson University has prepared future leaders to handle the challenges of tomorrow through innovative undergraduate and graduate degrees. With a commitment to delivering affordable classroom, online and experiential learning opportunities, Husson University has come to represent superior value in higher education. The Bangor campus and satellite education centers in Southern Maine, Wells, and Northern Maine provide advanced knowledge in business; health and education; pharmacy studies; science and humanities; as well as communication. In addition, Husson University has a robust adult learning program. For more information, visit Husson.edu.
Back to All Articles