Family and Friends to Help Celebrate Husson University Icon Clara Swan's 104th Birthday
Published on: April 27, 2016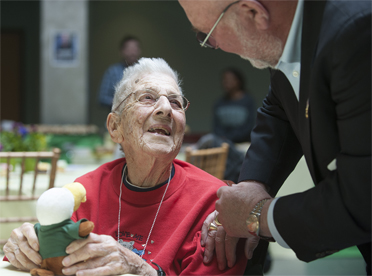 BANGOR, MAINE - Family and friends will be visiting Husson University's campus on Thursday, April 28, 2016 at approximately 11:30 a.m.to help celebrate the 104th birthday of University icon Clara Swan as part of a "cake and punch" reception at the Beardsley Meeting House that will run until 2 p.m.
"Clara is a beloved part of Husson University's past and present. She served the students of Husson University for 34 years and is one of the people who helped this institution grow and prosper," said Amanda Cummings, director of alumni relations.
"Alumni whose lives were influenced by Clara will be joining us at this event in an effort to pay tribute to this remarkable woman. They'll have the opportunity to share memories with classmates and see how much Husson has changed," said Cummings.
About Clara Swan
Clara Lincoln Swan was born in Princeton, Maine on April 28, 1912. She graduated from Brewer High School in 1930 as valedictorian and went on to attend the Maine School of Commerce, (known today as Husson University).
After graduation, she taught for five years in Mexico and Dover-Foxcroft, Maine. She later went on to earn a bachelor's degree from American International College and a Master's in Education (M.Ed.) from the University of Maine. Later in life, she also received honorary doctorates from Fort Lauderdale College and Husson University.
In 1939, Swan returned to Husson as a teacher. During her 34-year tenure, Swan served as:
• Director of the Secretarial Studies Department
• Assistant Principal
• Academic Dean
• Registrar
• Corporate Officer
• Assistant to the President
• Vice President

She also coached women's basketball for 19 years.
Thanks in large measure to the generous support of Dick and Alice Trott in April 2002, Husson University honored Swan on her 90th birthday by naming their fitness center after her.
In recognition of her lifetime of achievement, the Bangor Daily News and Husson University named Swan to their respective Sports Hall of Fames. In addition, she is the recipient of the UMaine Outstanding Business Educator Award, the Maine High School Coaches Association Award, the Mother Angela Award for Volunteerism from St. Joseph Hospital and the WLBZ2 "To Those Who Care Award."
In 2014, in recognition of her contributions to sports, the Maine Basketball Hall of Fame honored Swan by naming her one of the "Legends of the Game." Just last year, there was a groundbreaking ceremony for a new apartment complex named in honor of Clara Swan. It is called "Swan Village" and is located at 521 Kenduskeag Avenue in Bangor,
Members of the community interested in wishing Swan well are encouraged to make a gift to the Clara Lincoln Swan Scholarship Fund at Husson University in her honor. Visit https://connect.husson.edu/pages/honor-clara-swan to make a donation.
For more than 100 years, Husson University has prepared future leaders to handle the challenges of tomorrow through innovative undergraduate and graduate degrees. With a commitment to delivering affordable classroom, online and experiential learning opportunities, Husson University has come to represent superior value in higher education. Our Bangor campus and off-campus satellite education centers in Southern Maine, Wells, and Northern Maine provide advanced knowledge in business; health and education; pharmacy studies; science and humanities; as well as communication. In addition, Husson University has a robust adult learning program. For more information about educational opportunities that can lead to personal and professional success, visit Husson.edu.
Back to All Articles