Documentary About Mali Musicians Fighting for the Right to Sing to Air at Husson's Gracie Theatre
Published on: April 19, 2016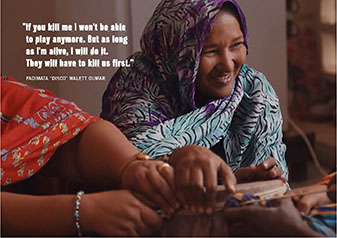 BANGOR, MAINE
– April 19, 2016 – The New England School of Communications (NESCom) at Husson University, in partnership with River City Cinema, is proud to bring the thought-provoking documentary film They Will Have to Kill Us First and its filmmaker to The Gracie Theatre for a special presentation on Thursday, April 21 at 7 p.m.
"Many of our students will work with a variety of professional musicians after graduation. These musicians often represent a vast array of cultural traditions. This film will help our NESCom students better understand the challenges facing musicians internationally and increase their appreciation for the freedom afforded to artists here in the United States," says Wellington Gordon, assistant professor of audio at Husson University's New England School of Communications
Released in 2015 to critical acclaim, They Will Have to Kill Us First was directed by award-winning filmmaker Johanna Schwartz. Schwartz will be available after the film for a question and answer session.
The documentary is a critical examination of bans on music in Mali in 2012 by Islamic extremists. The extremists destroyed radio stations, burned instruments, and threatened the lives of some of Mali's world famous musicians. The film tells the story of Mali's musicians fighting for their right to sing. From refugee camps, to the battlefield, to the international stage, They Will Have to Kill Us First tells a story of courage and performance in a dangerous climate of political and social upheaval.  
River City Cinema has been working with Husson professors Wells Gordon and Todd Eastman to bring filmmaker Johanna Schwartz and this documentary to Bangor for a screening and discussion. Topics to be addressed by the director will include the story of the film, struggles and difficulties, crowdsourcing, and post-production. The Gracie Theatre with its superior sound is a great venue for the film.
More About the Filmmaker
Johanna Schwartz creates documentaries with a profound sense of place and time, and a highly praised natural filming style. Working across the world, with a particular focus on Africa, she has produced and directed films for the British Broadcasting Company (BBC), Channel 4 in the United Kingdom (UK), Channel 5 (UK), the Discovery Channel, National Geographic, The History Channel, PBS, and CNBC among others. As a director, she won Gold at the New York Film and Television Festival and Best Documentary at The Chicago International Movies and Music Festival. They Will Have to Kill Us First is Schwartz's first feature length film. More information about this film can be found at TheyWillHavetoKillUsFirst.com.
More About the Screening
Admission is $10.00 at the door or on Brownpapertickets.com. Husson students with their ID can view the film for free. For more information about this event, please contact the box office at The Gracie at 941-7888 or visit GracieTheatre.com.  
Completed in October of 2009, The Gracie is Husson University's center for the fine and performing arts. This beautiful new 500-seat theatre is quickly earning a reputation as one of Maine's premier performance venues. In addition, The Gracie also serves as a learning platform for students from the New England School of Communications in digital audio, sound mixing, set design and construction, lighting, acting and electronics. For more information, visit GracieTheatre.com.
For more than 100 years, Husson University has prepared future leaders to handle the challenges of tomorrow through innovative undergraduate and graduate degrees. With a commitment to delivering affordable classroom, online and experiential learning opportunities, Husson University has come to represent superior value in higher education. Our Bangor campus and off-campus satellite education centers in Southern Maine, Wells, and Northern Maine provide advanced knowledge in business; health and education; pharmacy studies; science and humanities; as well as communication. In addition, Husson University has a robust adult learning program. For more information about educational opportunities that can lead to personal and professional success, visit Husson.edu.
River City Cinema (RCC) is a non-profit organization dedicated to bringing diverse films to the Bangor region; educating the public about the art and history of cinema; and encouraging filmmaking in Northeastern Maine. Each summer RCC holds a free outdoor film festival downtown Bangor and transforms Pickering Square into an open-air movie theater. Generous local sponsors make it possible for the audience, some for the first time, to experience cinema classics on the big screen. For more information, visit RiverCityCinema.org.
Back to All Articles