Husson University Physical Therapy Students to Hold Wheelchair Basketball Fundraising Event
Published on: March 18, 2016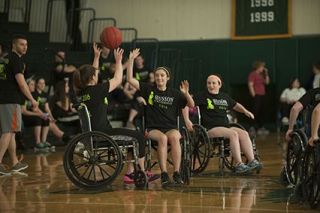 BANGOR, MAINE
– March 18, 2016 – The members of Husson University's Organization of Physical Therapy Students (OPTS) are hosting their 18th Annual Wheelchair Basketball Tournament at Newman Gymnasium on March 19, 2016 at 11:00 a.m.
"Besides being fun to watch, this event is helping to raise money for the Alpha One Center for Independent Living here in Bangor," said Martina Bosse, Husson University physical therapy student and president of OPTS. "The money raised at this event will help people who have disabilities live more fully and independently."
As part of this exhibition, a team comprised of Husson University physical therapy students will play against a professional wheelchair basketball team called "The Wheelers."
In addition, members of OPTS will raffle off door prizes from local area companies during the event. These prizes include gift cards to area restaurants, hand-made pottery, hand-made organic lotions and soaps, a bicycle, and much more. Anyone attending this event can purchase raffle tickets. Individuals must be present to win. Raffle tickets cost $1 for one, $3 for five or $10 for an "arm's length."
"Participating in wheelchair basketball helps you appreciate the importance of physical therapy," said Bosse. "You don't realize how much you take your independence and mobility for granted until it's gone. After I graduate, I look forward to helping people recover from injuries and illnesses that have affected their ability to live an active life."
If you need more information about the event, please contact Martina Bosse at 207-356-8851 or bossem@husson.edu.
Husson University's Organization of Physical Therapy Students promotes academic excellence, public service, and professional networking through a series of meeting and fundraising events. The group is dedicated to promoting healthy life styles, raising awareness of disability-related issues and encouraging professionalism within the discipline of physical therapy.
OPTS members are all students in the School of Physical Therapy at Husson University. This School is dedicated to developing skilled and knowledgeable practitioners who can work with clients on an independent and collaborative basis. Husson's Doctor of Physical Therapy program consists of a three-year pre-professional phase, followed by a three-year professional phase. Husson also offers a Bachelor of Science in Kinesiology.
The School of Physical Therapy is part of Husson University's College of Health and Education. With degrees in counseling, nursing, physical therapy and occupational therapy, the College of Health and Education helps prepare students for professional success in variety of healthcare careers.
For more than 100 years, Husson University has prepared future leaders to handle the challenges of tomorrow through innovative undergraduate and graduate degrees. With a commitment to delivering affordable classroom, online and experiential learning opportunities, Husson University has come to represent superior value in higher education. Our Bangor campus and off-campus satellite education centers in Southern Maine, Wells, and Northern Maine provide advanced knowledge in business; health and education; pharmacy studies; science and humanities; as well as communication. In addition, Husson University has a robust adult learning program. For more information about educational opportunities that can lead to personal and professional success, visit
Husson.edu.
Back to All Articles