Local Students Excelling in Spelling
Published on: March 4, 2016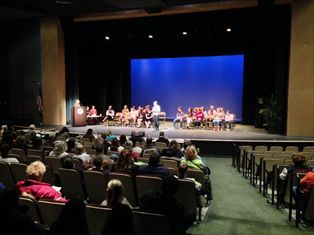 BANGOR, MAINE
- The local Penobscot County Spelling Bee finals will be held on Saturday, March 5, 2016 from 1:00 p.m. – 3:30 p.m. at Husson University's Gracie Theatre in Bangor. The winner of this competition will qualify to compete in the Scripps National Spelling Bee Competition in the Washington, D.C. area this May. The event is free and open to the public.
"This is an outstanding opportunity for students in our area to demonstrate their command of the English language," said Husson University Senior Vice President for Academic Affairs and Provost Lynne Coy-Ogan. "The spelling abilities of the participants never fail to impress everyone who attends."
Husson University's School of Education is organizing the Penobscot County Spelling Bee finals for the fifth consecutive year. The event helps promote academic excellence among students who are in grades 5-8.
Each participating school in Penobscot County can send two students to compete in the countywide competition at The Gracie. These students have already proven themselves to be exceptional spellers by winning competitions at their respective schools.
The Penobscot County Spelling Bee is an elimination-style competition held in front of an audience and a panel of judges. Husson University's Associate Professor of Elementary and Secondary Education, Dr. Sandip Wilson, will be the person responsible for providing the words to the students.
As the sponsor, Husson University will provide the winner and a parent or guardian with an all-expense-paid trip to the Washington, D.C. area. This individual will be one of two students representing the State of Maine in the national competition.  
Every fall, tens of thousands of schools enroll in the spelling bee program. Schools then conduct spelling bees at the classroom, grade, and/or school level and those winners move onto the final local bees. The winners of these local competitions then go on to compete in the Scripps National Spelling Bee in the Washington, D.C. area.
The Scripps National Spelling Bee is the nation's largest and longest-running educational promotion administered on a not-for-profit basis by The E.W. Scripps Company and local spelling bee sponsors like Husson University around the world. The goal of the event is to help students improve their spelling, increase their vocabularies, learn concepts, and develop correct English usage that will help them all their lives.
The Gracie Theatre is located at 1 College Circle in Bangor, Maine. Individuals in need of directions can contact the Gracie's box office at 207.941.7888, gracietheatre@husson.edu, or visit GracieTheatre.com/Directions.
For more than 100 years, Husson University has prepared future leaders to handle the challenges of tomorrow through innovative undergraduate and graduate degrees. With a commitment to delivering affordable classroom, online and experiential learning opportunities, Husson University has come to represent superior value in higher education. Our Bangor campus and off-campus satellite education centers in Southern Maine, Wells and Northern Maine provide advanced knowledge in business; health and education; pharmacy studies; science and humanities; as well as communication. In addition, Husson University has a robust adult learning program. For more information about educational opportunities that can lead to personal and professional success, visit Husson.edu.
Back to All Articles