The Gracie Theatre Presents FORBIDDEN HOLLYWOOD, the Smash Musical Parody of the Movies
Published on: March 15, 2016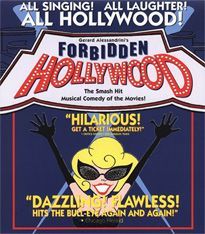 BANGOR, MAINE
- One of America's favorite cinema spoofs, FORBIDDEN HOLLYWOOD!, is coming to Husson University's Gracie Theatre on Saturday, March 26, for one night only, with a performance at 7:30 p.m. This is the fourth show in the Gracie Theatre's season sponsored by Bangor Savings Bank.
Hot on the heels of its long-running predecessor, Forbidden Broadway, FORBIDDEN HOLLYWOOD! is coming to town, guns-a-blazing and smokin' with attitude.
"A few years ago we presented Forbidden Broadway, and it was a great success. I knew this sister show would also be a hit at The Gracie. It's out-and-out fun for people who love movies and musicals," says Jeri Misler, managing director of the Gracie Theatre.
Classic films like Titanic, Star Wars, and Harry Potter all receive the comic once-over from the FORBIDDEN HOLLYWOOD cast. With a satirical attitude that could best be described as, "The bigger the production, the harder it falls," the cast of FORBIDDEN HOLLYWOOD! revels in its destruction of blockbusters like Shrek, Lord of the Rings, and Chicago. Disney even endures a riotous ribbing of its cartoon world and its theme park megalomania.
Writer Gerald Alessandrini keeps the show topical by constantly updating the material. No film, either new or venerable, escapes his withering gaze. Actors who are satirized include Keanu Reeves, Melanie Griffith, Jennifer Lopez, Jim Carrey, Nicole Kidman, and Tom Cruise. The show also pokes fun at long-famous stars like Katherine Hepburn, Jimmy Stewart, Marlena Dietrich, Doris Day, Judy Garland, Marlon Brando, Barbra Streisand, Audrey Hepburn, Louis Armstrong, Ann-Margret and Liza Minnelli. The person imitating Liza Minnelli sings a number reminiscent of "Mein Herr," from the film version of Cabaret.
In reviewing the show, the Los Angeles Times said, "Hilarious - get a ticket immediately!"
Tickets for FORBIDDEN HOLLYWOOD! are $35.00 for orchestra level seating and $25.00 for balcony seats. For reservations, call 207-941-7888 or go online to www.gracietheatre.com.
Completed in October of 2009, The Gracie is Husson University's center for the fine and performing arts. This beautiful new 500-seat theatre is quickly earning a reputation as one of Maine's premier performance venues. In addition, The Gracie also serves as a learning platform for students from the New England School of Communications in digital audio, sound mixing, set design and construction, lighting, acting and electronics. For more information, visit GracieTheatre.com
For more than 100 years, Husson University has prepared future leaders to handle the challenges of tomorrow through innovative undergraduate and graduate degrees. With a commitment to delivering affordable classroom, online and experiential learning opportunities, Husson University has come to represent superior value in higher education. Our Bangor campus and off-campus satellite education centers in Southern Maine, Wells, and Northern Maine provide advanced knowledge in business; health and education; pharmacy studies; science and humanities; as well as communication. In addition, Husson University has a robust adult learning program. For more information about educational opportunities that can lead to personal and professional success, visit Husson.edu.
Back to All Articles