Husson University Faculty and Alumni Volunteer to Inspire Youngsters at the Maine Science Festival
Published on: March 16, 2016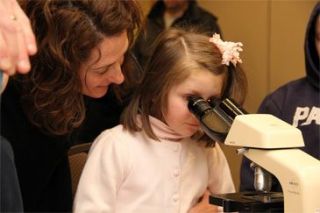 BANGOR, MAINE
- Husson University faculty and alumni will be helping to inspire the next generation of scientists and engineers at the upcoming Maine Science Festival on March 18-20 in Bangor. Six different lectures and hands-on activities will benefit from the insight and expertise these individuals bring to this event in the spirit of public service.
"Many of the programs at Husson University are focused on providing students with the education they need to be successful in science-related careers," said Senior Vice President for Academic Affairs and Provost Lynne Coy-Ogan, Ed.D. "Our faculty and alumni are looking forward to attending the festival and sharing their knowledge so that young people better understand how technology, chemistry and other sciences impact their lives every day."
One of the Husson faculty members who will be at the festival is Scott Loiselle, an assistant professor of audio engineering and electronic music technology at Husson University's New England School of Communications. On Friday, March 18, he will be helping students understand how sound can be made and modified electronically as part of his presentation, "The Music Synthesizer – "Old School" Audio." The student field trips attending this event will come away with a better understanding of how signal paths work.
"I always enjoy seeing that "a-ha" moment, when you're speaking to young people and the light bulb turns on," said Loiselle. "There's nothing more satisfying than seeing a student's face light up when the science of sound is no longer a mystery."  
Solving mysteries will be the subject of another Husson University presentation at the Maine Science Festival. During the "Cool Science" presentation in the Cross Insurance Center Ballroom on March 18, Husson University Assistant Professor Alicia Wilcox and her students will share their knowledge of how forensic science can narrow the scope of an investigation as part of "Criminalistics." This crime-solving presentation will allow youngsters to use deductive reasoning, follow clues, and critically analyze evidence.
Laura Gurney, an assistant professor of web media, will be one the featured presenters on hand for "Teen Tech Night for High School Students" at the Bangor Y – Isaac Farrar Mansion on March 18. High school students attending this session will have the opportunity to learn about the world of computer programming. Workshops will cover video game design, computers, and website construction.   
Younger middle school teens will have the opportunity to learn about technology from Dr. Gerald Wright, a Husson assistant professor who teaches classes in the University's Computer Information Systems program, as part of "Teen Tech Night for Middle School Students" at the Maine Discovery Museum on March 18. This workshop will allow students to explore cutting-edge software and web-based tools as part of a hands-on experience.
Successful Husson alumni will also be contributing their knowledge and expertise to the Maine Science Festival.
On Friday, March 18, Zach Coulombe of Eagre Games will be one of the panelists participating in "Video Game Genesis." A 2015 graduate of Husson University's College of Business, with a Bachelor of Science in software development, Coulombe now works for the Maine State Legislature as a programmer. He is passionate about video games and hopes to see our state become a hub for video game development. As part of the panel, he will talk about how programmers work with artists to help create the games people want to play.
Another panel on March 19, will feature a Husson graduate who earned her master's degree in nursing in 2001 from Husson University's College of Health and Education. Patricia Hamilton, FNP (Family Nurse Practitioner), is director of public health and community services in Bangor. She will be part of a panel discussing "Opioids: Current Crisis, Historical Context and a Rational Plan Moving Forward." During this discussion, the panel will explain some of the science behind addiction and place it in a historical context.  
In summarizing Husson's involvement in this event, Coy-Ogan observed: "The Maine Science Festival helps to showcase the variety of in-depth expertise available at Husson University. We're glad to support this educational effort and help make the festival a great experience for students of all ages."
For more than 100 years, Husson University has prepared future leaders to handle the challenges of tomorrow through innovative undergraduate and graduate degrees. With a commitment to delivering affordable classroom, online and experiential learning opportunities, Husson University has come to represent superior value in higher education. Our Bangor campus and off-campus satellite education centers in Southern Maine, Wells and Northern Maine provide advanced knowledge in business; health and education; pharmacy studies; science and humanities; as well as communication. In addition, Husson University has a robust adult learning program. For more information about educational opportunities that can lead to personal and professional success, visit Husson.edu.
Back to All Articles