The Gracie to Feature Chamber Music Theatre Performance Celebrating African-American Women
Published on: February 9, 2016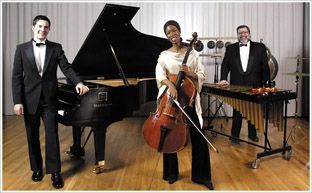 BANGOR, MAINE
- Husson University's Gracie Theatre will celebrate Black History Month and Women's History Month on Friday, February 26, 2016 with a performance of Ain't I a Woman!, a chamber music theatre work celebrating the lives and times of four African-American women. The women celebrated during the performance include ex-slave and fiery abolitionist Sojourner Truth, renowned novelist and anthropologist Zora Neale Hurston, folk artist Clementine Hunter and civil rights worker Fannie Lou Hamer.
"Conceived and performed by the Core Ensemble, Ain't I a Woman! could best be described as a marriage of theatrical narrative and chamber music performance," said Jeri Misler, managing director of the Gracie Theatre. "With a musical score drawn from the heartfelt spirituals of the Deep South, the urban exuberance of the Jazz Age and concert music by African-American composers, this performance will delight fans of classical music and a variety of other instrumental genres."
Actress Deltoiya Goodman portrays the four women celebrated over the course of Ain't I a Woman! During the performance, she brings multiple characters to life as she interacts onstage with the musicians who play cello, piano and percussion instruments.
Goodman has appeared in regional theater (Palm Beach Dramaworks and Players by the Sea) in theater works such as To Kill a Mockingbird and The Wiz. Her film credits include Let's Do Lunch and Baby. Goodman received her training at Florida State University, the Douglas Anderson School for the Arts in Jacksonville, Florida, and at the American Black Theater Festival.
Since 1993, the Core Ensemble has toured in every region of the United States and internationally in Australia, England, Russia, Ukraine, and the British Virgin Islands. The Core
Ensemble has received support from the National Endowment for the Arts, the State of Florida, Department of State, Division of Cultural Affairs, The Palm Beach County Cultural Council and the Aaron Copland Fund for Music.
All tickets for the 7 p.m. performance are $15.00. To reserve your tickets for Ain't I a Woman!, contact the Gracie box office at 207-941-7888 or at www.gracietheatre.com
Completed in October of 2009, The Gracie is Husson University's center for the fine and performing arts. This beautiful new 500-seat theatre is quickly earning a reputation as one of Maine's premier performance venues. In addition, The Gracie also serves as a learning platform for students from the New England School of Communications in digital audio, sound mixing, set design and construction, lighting, acting and electronics. For more information, visit GracieTheatre.com
For more than 100 years, Husson University has prepared future leaders to handle the challenges of tomorrow through innovative undergraduate and graduate degrees. With a commitment to delivering affordable classroom, online and experiential learning opportunities, Husson University has come to represent superior value in higher education. Our Bangor campus and off-campus satellite education centers in Southern Maine, Wells and Northern Maine provide advanced knowledge in business; health and education; pharmacy studies; science and humanities; as well as communication. In addition, Husson University has a robust adult learning program. For more information about educational opportunities that can lead to personal and professional success, visit Husson.edu.
Back to All Articles