Student-Produced TV Series Showcases Important Contributions of Central Maine Non-Profit Organizations
Published on: January 12, 2016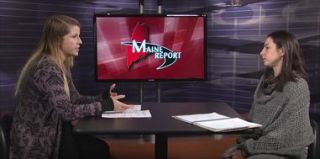 BANGOR, MAINE
- Have you ever wondered what it would be like to host your own television show? Five journalism students at the New England School of Communications (NESCom) found out when they hosted The Maine Report, a public affairs program recorded at Husson University's broadcast-quality television studio.
"Being involved in this project forced me to step outside of my comfort zone," said Nicole Duplessis, a NESCom journalism student from Van Buren, Maine. "Researching and hosting a television show instilled a new sense of confidence in me that I never really had before."
The Maine Report is part of a class dedicated to teaching students how to produce and host a TV public affairs show. For their final project at the end of the semester, students produced a series of five talk shows that focused on the work of prominent central Maine non-profit organizations. The shows can be seen on YouTube at http://tinyurl.com/zb5u7wu.
Each program featured a different organization and a different host. All of the hosts were NESCom students enrolled in the school's journalism program.
The experience helped prepare these students for a career in broadcasting. When asked about the experience, Olivia McCrillis, a NESCom journalism student from Scarborough, Maine said, "This project not only helped me get more comfortable behind the camera, I now better understand how to interview people. I also learned how to present myself more effectively."  
The programs featured leaders from:
• The Bangor Area Homeless Shelter
• The Bangor YMCA
• Penquis
• The Robinson Ballet
• United Cerebral Palsy (UCP) of Maine
The NESCom students impressed the leaders of local area non-profit organizations.
Diane Dickerson is the chief executive officer and chief marketing officer for the Bangor YMCA. When asked about her interview experience she replied that it was "an honor to work with the students at the New England School of Communications on their public affairs class project. They were all professional, well prepared, and extremely competent in their various specialties. My reporter did her homework and asked great questions. The entire TV facility was amazing. I've worked with media all across the country for the past 30-plus years and these students were as talented and skilled as any group of working professionals."
The local United Way appreciated the added visibility given to their member organizations. "We're thrilled to have an amazing community partner like Husson University," said Jesse Moriarity, vice president of resource development and communications at the United Way of Eastern Maine. "Our partner agencies were lucky to be working with such a talented group of students."
Jeffrey Hope leads the New England School of Communications at Husson University's journalism and sports journalism programs. Once these programs are completed, students earn a bachelor's degree in mass communications. These degree concentrations train students for career success in print, broadcast and web media. As part of their studies, students learn about researching, fact-finding, recording images and then writing, editing and reporting stories. For more information about the journalism program, visit Husson.edu/nescom-journalism.  
The New England School of Communications (NESCom) at Husson University offers Bachelor of Science degrees in communications technology, mass communications and entertainment production. Within these degrees, students may choose from concentrations in audio engineering, live sound technology, video production, webmedia, entertainment production, journalism, marketing communications, radio broadcasting and sports journalism. The New England School of Communications specializes in communications, providing students with a hands-on experience that gives them the education and skills needed for today's job market.
For more than 100 years, Husson University has prepared future leaders to handle the challenges of tomorrow through innovative undergraduate and graduate degrees. With a commitment to delivering affordable classroom, online and experiential learning opportunities, Husson University has come to represent superior value in higher education. Our Bangor campus and off-campus satellite education centers in Southern Maine, Wells and Northern Maine provide advanced knowledge in business; health and education; pharmacy studies, science and humanities; as well as communication. In addition, Husson University has a robust adult learning program. For more information about educational opportunities that can lead to personal and professional success, visit Husson.edu.
Back to All Articles