Pinch Strength, Vision, Obesity, Mortality Rates and More
Published on: December 8, 2015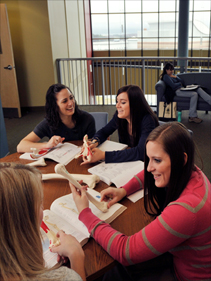 BANGOR, MAINE – December 8, 2015 – Every Husson University student enrolled in the College of Health and Education's Master of Science in Occupational Therapy (OT) program must complete a year-long research project and present their findings publicly. On December 10, Husson University students, faculty, staff and members of the community will have the opportunity to see the results of these OT students' hard work.   
"Research fosters evidence-based critical thinking and clinical reasoning," said Professor Laurie Mouradian, ScD, ATR, OTR/L, of Husson University's School of Occupational Therapy. "These formal scientific oral presentations will highlight the students' findings or outcomes and give them the opportunity to demonstrate their ability to apply scientific reasoning to real-life community-based issues."
The focus of the student presentations vary. Highlights include:
A comparison of pinch strength and fine motor coordination to older adults' perception of ability in their daily activities.
An examination of the health risk factors related to mortality by county in Maine.
A mixed methods study of the impact of low vision on older adults' functioning in everyday life.
A pilot satisfaction and needs survey of guests and caregivers staying at Sarah's House of Maine.
Research into the challenges for community dwelling adults, forty years and older, in Northern and Eastern Maine.
A study that examines mortality rates among Maine counties from diseases and their relationship to health related factors.
Research into the factors related to obesity rates among Maine counties.
The presentations will occur at the Richard E. Dyke Center for Family Business on December 10, 2015. Posters can be viewed from 3:30 p.m. – 4:00 p.m. The presentations run from 4:00 p.m. – 6:45 p.m. with a 30-minute break for light refreshments and more poster viewing at approximately 5:15 p.m. Individuals interested in attending are welcome to stay for all or part of the event, which is free and open to the public.
"This is a big event for our students and they do a very professional job of presenting their projects. They always appreciate having a supportive audience," said Dr. Rhonda Waskiewicz, dean of Husson University's College of Health and Education. "This is a unique opportunity to see the breadth and depth of the education these soon-to-be OT graduates received during their time at Husson University."
For more than 100 years, Husson University has prepared future leaders to handle the challenges of tomorrow through innovative undergraduate and graduate degrees. With a commitment to delivering affordable classroom, online and experiential learning opportunities, Husson University has come to represent superior value in higher education. Our Bangor campus and off-campus satellite education centers in Southern Maine, Wells and Northern Maine provide advanced knowledge in business; health and education; pharmacy studies; science and humanities; as well as communication. In addition, Husson University has a robust adult learning program. For more information about educational opportunities that can lead to personal and professional success, visit Husson.edu.
Back to All Articles