Husson University Receives Grant for $4,000 from the Maine Campus Compact
Published on: December 22, 2015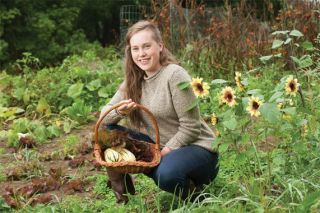 BANGOR, MAINE
- The Husson University School of Science and Humanities announced today that it has received a Campuses for Environmental Stewardship (CES) grant for $4,000 from the Maine Campus Compact (MCC). Through an expansion of the Husson University garden and four interdisciplinary courses, students will explore issues of food insecurity in the community.
Funding for the grant was provided by the Davis Educational Foundation, an organization established by Stanton and Elisabeth Davis after Mr. Davis' retirement as chair of Shaw's Supermarkets, Inc.
Over 70 faculty members from 18 select campuses across four New England states will learn how to embed environmental service-learning components into courses as part of this effort.
According to MCC Executive Director Sally Slovenski, "This is a unique opportunity for New England's colleges and universities to lead in finding long-term solutions to sustain our planet for generations to come."
Husson is one of only six institutions of higher education in Maine to receive funding for this effort. Receiving this award demonstrates that the university is willing to address important environmental and social issues; committed to creating institutional change by embedding service-learning projects into courses; devoted to strengthening teaching, curriculum, and student learning outcomes; and dedicated to promoting interdisciplinary approaches to education.
Four spring courses taught by collaborators Dr. Adam Crowley (English), Dr. David Haus (history), Dr. Nico Jenkins (philosophy), and Dr. Tom Stone (math and physics) will include a service-learning component related to the garden. Students participating in these courses will get an interdisciplinary, hands-on experience that facilitates connections to the community while helping to improve environmental stewardship.
"The financial resources provided by this grant will allow the university to expand our sustainability efforts by doubling the footprint of the Husson garden and embedding environmental service-learning components into four of our spring courses," says Dr. Tom Stone, an assistant professor in Husson University's School of Science and Humanities. "General education courses such as these help lay a foundation for our graduates to be citizens who can thoughtfully and intelligently participate in the debates and decision-making that will occur around complex environmental issues. A number of our environmental science majors will also be involved in the project as it continues into the summer and fall harvest."
According to the Bureau of Labor Statistics, employment of environmental scientists and specialists is projected to grow 15 percent from 2012 to 2022, faster than the average for all occupations.  Heightened public interest in the hazards facing the environment, as well as the increasing demands placed on the environment by population growth, is expected to spur demand for environmental scientists and specialists.
To help meet the increasing demand for knowledgeable environmental science professionals, Husson University offers a Bachelor of Science in Environmental Science degree. The program is designed to provide students with a strong, broad-based foundation in the natural and physical processes that affect the functioning of our planet, as well as the social and political factors that influence environmental policy and management.
The degree is ideal for anyone interested in positions with local, state, and federal government agencies, private environmental organizations, or educational institutions with scientific or policy-related environmental disciplines.
The Davis Educational Foundation, established as a public charitable foundation in 1985, supports the undergraduate programs of public and private, regionally accredited, baccalaureate degree granting colleges and universities throughout the six New England states. Co-founded by Elisabeth K. Davis and Stanton W. Davis, the foundation is an expression of the couple's shared support and value for higher education and has provided close to $98 million in grants to more than 157 institutions. For more information, visit DavisFoundations.org
For more than 100 years, Husson University has prepared future leaders to handle the challenges of tomorrow through innovative undergraduate and graduate degrees. With a commitment to delivering affordable classroom, online and experiential learning opportunities, Husson University has come to represent superior value in higher education. Our Bangor campus and off-campus satellite education centers in Southern Maine, Wells and Northern Maine provide advanced knowledge in business; health and education; pharmacy studies; science and humanities; as well as communication. In addition, Husson University has a robust adult learning program. For more information about educational opportunities that can lead to personal and professional success, visit Husson.edu.
Back to All Articles