Three Husson University Experts in History and Terrorism to Participate in Panel Discussion on ISIS
Published on: November 23, 2015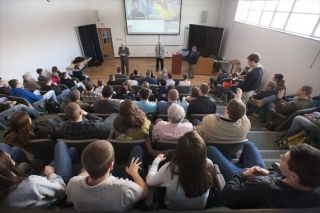 BANGOR, MAINE – The recent bombings in Paris by the Islamic State in Iraq and Syria (ISIS) have provoked discussion and questions from the students at Husson University on a wide range of issues related to terrorism, international policy and security. In an effort to answer students' questions and help them better understand the events that culminated in these attacks, Husson University will be hosting a panel discussion about ISIS on Monday, November 23, 2015 from 11:00 a.m. – 11:50 a.m. in Peabody Hall's Kominsky Auditorium.
Panelists will include:
• David Haus, Ph.D., an associate professor of history in the School of Science and Humanities at Husson University. Dr. Haus will talk about the formation of a caliphate in Iraq and Syria from a historical perspective. He earned his Bachelor of Arts in American studies from Penn State University where he is a graduate of the Schreyer Honors College. Haus earned his Master of Arts in American culture studies from Bowling Green State University, focusing on early American history and culture. He then went on to earn his Ph.D. in history at Bowling Green State University, focusing on 20th century U.S. policy history. He has minors in the fields in Latin American history and the history of modern Japan.

• John Michaud, an assistant professor in the School of Legal Studies at Husson University. He is a nationally respected terrorism expert. Professor Michaud will speak about the history of Jihadism. For 25 years, prior to joining Husson University, Michaud managed the Naval Criminal Investigative Service's (NCIS) counterterrorism division where he trained and led special protective anti-terrorism squads. After retiring from the NCIS, Michaud worked with the International Olympic Committee and was in charge of managing corporate security during the Olympic Games in Atlanta, Georgia. At the conclusion of the Games, he became a consultant to the Boston Police Academy.
• Michael Kamorski, Ed.D., an assistant professor in the School of Legal Studies at Husson University. Professor Kamorski will share his thoughts on recent events from a counterterrorism and military perspective. He has a master's degree in strategic military studies from the U.S. Army Command and General Staff College in Leavenworth, KS. Additionally, he holds a master's degree in business administration from the University of Montana and a Doctorate in Higher Education from Nova Southeastern University. Kamorski is a retired U.S. Air Force Lieutenant Colonel, with 24 years of active duty service, including a combat tour in Afghanistan as the lead investigator for the 82nd Airborne Inspector General.
"We want to provide students with the background and context associated with recent events, which they may not be getting from the media. In addition to answering students' questions, this panel discussion will give members of our Husson community the information they need to apply critical thinking skills to recent terrorism related events. After this session, students will be able to connect the dots and better understand the complex relationships and dynamics of global terrorism," said Kamorski.
This forum is being initiated in response to requests from students in Husson University's College of Business and the College's criminal justice program. The event is free and open to all Husson University students, faculty and staff. Members of the community are also welcome to attend. Seating is limited.
For more than 100 years, Husson University has prepared future leaders to handle the challenges of tomorrow through innovative undergraduate and graduate degrees. With a commitment to delivering affordable classroom, online and experiential learning opportunities, Husson University has come to represent superior value in higher education. Our Bangor campus and off-campus satellite education centers in Southern Maine, Wells and Northern Maine provide advanced knowledge in business; health and education; pharmacy studies; science and humanities; as well as communication. In addition, Husson University has a robust adult learning program. For more information about educational opportunities that can lead to personal and professional success, visit Husson.edu.
Back to All Articles