Star of the TV Series "Glee" to Perform at Husson University's Gracie Theatre
Published on: November 1, 2015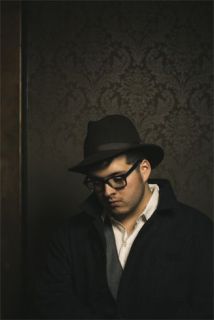 Bluesy-pop singer/songwriter Noah Guthrie, one of the stars of Glee - The Final Season, will be performing at Husson University's Gracie Theatre on Friday, November 6, 2015 from 7:30 p.m. - 9:30 p.m.
Guthrie has been touring the U.S. since 2013, promoting his debut album, Among the Wildest Things. Known for his unique covers on YouTube, he's excited to give fans a taste of his own music.
"This is a unique opportunity to see the strength and depth of this talented young artist," said Jeri Misler, managing director of the Gracie Theatre. "Noah's passion for writing and performing his own compositions goes well beyond his talent for covering songs by other artists."
In January 2015, Guthrie's music career took an exciting turn when he was seen in the sixth and final season of Glee, as a character named Roderick, a new McKinley High School student who joins the glee club.
"Roderick was…kind of the chubby underdog," Guthrie said. "They (the producers) were trying to cast the new season, and I guess they had seen some of my videos and heard my music. They needed somebody who was kind of husky but also had a bluesy tone to his voice."
Guthrie has been steadily building a name for himself in the music business through his live performances and cover videos. He currently has over 53 million views on YouTube. In May 2012, Guthrie's blues-filled version of LMFAO's "Sexy And I Know It" earned him more than 8 million YouTube views in less than a week (now at over 22 million views). As a result, he was featured on NBC's Today, Jay Leno's Tonight Show, Dancing with the Stars, and several U.S. and European radio stations. In addition, covers of his version have been featured on the U.S. version of The Voice and The X Factor.
His powerful soulful voice and beautifully written songs appeal to a wide range of audiences.
These talents allowed Guthrie to become the opening act for a variety of artists including Ed Sheeran, Neon Trees, Ben Rector, Cobra Starship, Matisyahu, Matt Nathanson and Selena Gomez.
Touring and writing new music are at the top of Guthrie's list for the coming year. He loves performing his music for live audiences and can't wait to see what's around the corner.
Tickets for the concert are $18.00 and $15.00 for orchestra and balcony seats respectively. To reserve your tickets for Noah Guthrie in Concert, contact the Gracie box office at 207-941-7888 or at www.gracietheatre.com
Completed in October of 2009, The Gracie is Husson University's center for the fine and performing arts. This beautiful new 500-seat theatre is quickly earning a reputation as one of Maine's premier performance venues. In addition, The Gracie also serves as a learning platform for students from the New England School of Communications in digital audio, sound mixing, set design and construction, lighting, acting and electronics. For more information, visit GracieTheatre.com
For more than 100 years, Husson University has prepared future leaders to handle the challenges of tomorrow through innovative undergraduate and graduate degrees. With a commitment to delivering affordable classroom, online and experiential learning opportunities, Husson University has come to represent superior value in higher education. Our Bangor campus and off-campus satellite education centers in Southern Maine, Wells and Northern Maine provide advanced knowledge in business; health and education; pharmacy studies; science and humanities; as well as communication. In addition, Husson University has a robust adult learning program. For more information about educational opportunities that can lead to personal and professional success, visit Husson.edu.
Back to All Articles