Prominent Women Executives to Share Insights on Leadership at Husson University's Center for Family Business
Published on: November 19, 2015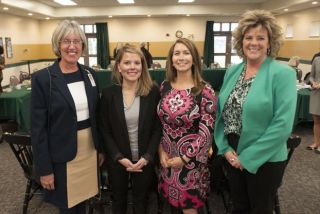 BANGOR, MAINE - This Thursday is Women's Entrepreneurship Day, a worldwide event designed to celebrate, support and empower women as business leaders. In recognition of the important role entrepreneurial women play in our economy and the workplace, Husson University is sponsoring a luncheon and panel discussion event at the Richard E. Dyke Center for Family Business on November 19, 2015, at 12:00 p.m.
"These women are wonderful examples of professional and community leaders. In addition, they embody the key Husson traits of humility and character," said Husson University College of Business Dean Marie Hansen, Ph.D.
The business people who will be speaking at this event include:
• Carrie Meo, the vice president of fixed operations at Darling's Bangor. She is also the founder and owner Anthony John's Day Spa in Bangor.
• Jaclyn Fish, a vice president at Bangor Savings Bank
• Betsy Webb, the superintendent of the Bangor School Department and chair of the Husson University Board of Visitors.
• Tracey Whitten, owner of the University Motor Inn and Black Bear Inn in Orono, Maine
The program will focus on how each of these executives achieved success. They will share some of the key leadership lessons they learned over the course of their careers as part of this panel discussion.
Students, faculty, business owners and their advisors are all encouraged to attend. While the luncheon is free and open to the public, seating is limited. Members of the public interested in attending are encouraged to contact Amanda at wardwellam@husson.edu to reserve their seats.
About "A Conversation at the Dyke Center"
This panel discussion is part of the "Conversation at the Dyke Center" speaker series. Modeled after Inside the Actors' Studio, "A Conversation at the Dyke Center" brings together business people who are at the top of their game for a conversation in an intimate setting. Attended by students, Husson community members and guests from the area and beyond, the lessons learned and stories shared will inspire and inform those in attendance.
"A Conversation at the Dyke Center" is sponsored by Husson University's College of Business. This unique interactive conversation provides students with the opportunity to connect with successful and talented professionals as part of their education. Students must complete background preparations leading up to the event and prepare pre- and post-visit papers. In addition, some students get the chance to "pick the brains" of the guest business leaders in small group discussions.
About Women's Entrepreneurship Day (WED)
Women's Entrepreneurship Day (WED) was founded by entrepreneur, publisher animal advocate, Animal Fair Founder Wendy Diamond in 2014 after she learned of the impact empowering women financially can have on men, women and children in global communities. Throughout the year, WED gathers women leaders to ultimately create a think tank and expand businesses with socially good initiatives around the world. For more information about WED, its corporate, global and academic partners, additional honorees and participants, attendance and registration, please visit www.womenseday.org.
For more than 100 years, Husson University has prepared future leaders to handle the challenges of tomorrow through innovative undergraduate and graduate degrees. With a commitment to delivering affordable classroom, online and experiential learning opportunities, Husson University has come to represent superior value in higher education. Our Bangor campus and off-campus satellite education centers in Southern Maine, Wells and Northern Maine provide advanced knowledge in business; health and education; pharmacy studies; science and humanities; as well as communication. In addition, Husson University has a robust adult learning program. For more information about educational opportunities that can lead to personal and professional success, visit Husson.edu.
Back to All Articles