Husson University's Center for Family Business to Feature Presentation on Social Responsibility and Social Entrepreneurship
Published on: November 3, 2015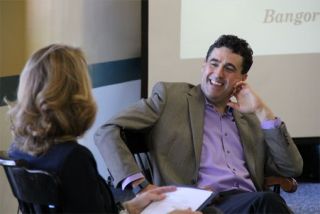 BANGOR, MAINE – November 3, 2015 – On Wednesday, November 4 at 11:00 a.m., members of the community along with Husson University students, faculty, and staff, will have the privilege of listening to the leader of one of Maine's oldest and most prestigious financial institutions.
Robert Montgomery-Rice is the president and CEO of Bangor Savings Bank. His presentation, "Doing well by doing good: Bangor Savings Bank's culture of social responsibility," will shed light on the magic that happens when social responsibility and social entrepreneurship come together at a leading corporation.
"Bob's leadership and dedication to serving the financial needs of our community give him a unique perspective on the importance of social entrepreneurship," said Husson University College of Business Dean Marie Hansen, J.D. Ph.D. "Today's financial institutions not only facilitate the growth of goods, services and employment opportunities, they also serve as a catalyst for social improvements. We look forward to hearing how Bangor Savings Bank sustains and creates value for their shareholders and the community."
As part of his presentation, Montgomery-Rice will describe Bangor Savings Bank's "You Matter More" campaign. This campaign is designed to drive business growth that benefits the community. Those in attendance will have the opportunity to ask Montgomery-Rice about the challenges, timelines, stakeholders, and strategic decisions that companies undertake in order to "do well by doing good."
The event takes place at the Richard E. Dyke Center for Family Business on the Bangor, Maine campus of Husson University. Montgomery-Rice's presentation is free and open to the public. Seating is limited so individuals interested in attending this presentation are encouraged to arrive at least 15 minutes prior to the event.
More Information About Robert Montgomery-Rice
Montgomery-Rice began his career working at both large financial services companies and in community banking. Organizations where he held senior and executive roles include BankBoston, Cambridgeport Bank and Fidelity Investments.
He joined Bangor Savings Bank in 2004. Prior to his current position, he served in a variety of executive leadership roles at Bangor Savings Bank including chief operating officer. He also has experience supervising the financial institution's consumer banking, information technology, human resources, real estate management, and operations departments.
In 2015, Montgomery-Rice became the President and CEO of Bangor Savings Bank. That same year he joined the Board of Trustees of Bangor Bancorp, MHC.
A Conversation at the Dyke Center
Modeled after Inside the Actors' Studio, "A Conversation at the Dyke Center" brings together business people who are at the top of their game for a conversation in an intimate setting. Attended by students, Husson community members and guests from the area and beyond, the lessons learned and stories shared will inspire and inform those in attendance.
"A Conversation at the Dyke Center" is sponsored by Husson University's College of Business. This unique interactive conversation provides students with the opportunity to connect with successful and talented professionals as part of their education. Students must complete background preparations leading up to the event and prepare pre- and post-visit papers. In addition, some students get the chance to "pick the brains" of the guest business leaders over lunch.
For more than 100 years, Husson University has prepared future leaders to handle the challenges of tomorrow through innovative undergraduate and graduate degrees. With a commitment to delivering affordable classroom, online and experiential learning opportunities, Husson University has come to represent superior value in higher education. Our Bangor campus and off-campus satellite education centers in Southern Maine, Wells and Northern Maine provide advanced knowledge in business; health and education; pharmacy studies; science and humanities; as well as communication. In addition, Husson University has a robust adult learning program. For more information about educational opportunities that can lead to personal and professional success, visit Husson.edu.
Back to All Articles