Husson University Aspires to Raise 30 Million Through Comprehensive Campaign
Published on: October 6, 2015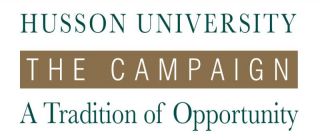 BANGOR, MAINE - On Saturday evening, Husson University launched the public phase of its first comprehensive campaign, "Shaping our Future," in front of over 200 alumni and friends of the institution during the culmination of Homecoming Weekend 2015 at a magnificent gala in the Newman Athletic Complex. This is the first comprehensive campaign in the institution's 117-year history.  To date, the University has raised more than $16 million. Husson's top priorities are to create additional opportunities for financial aid, strengthen this institution's endowment and the construction of a new building for the College of Business.
Husson University's College of Business is the largest business school in Maine. "We aspire to do more and choose to move forward because we believe in a better future," said Robert A. Clark, Ph.D., CFA, president of Husson University. "With this campaign, we accept the challenge to be the catalyst responsible for the success of our students and the economic future of our state. There is no greater calling for any institution than the transformation of students' lives and the education of our future leaders." The proposed new building will fuse business education with science, technology, engineering and math opportunities. Husson envisions a cross pollination of sciences and entrepreneurship in modern, unique learning space dedicated to innovation.
The building will also feature interactive learning spaces designed to foster innovative interdisciplinary learning. The fundraising goal for this project alone is $16.5 million and includes $3 million for an endowment devoted to technology and innovation. In talking about the need for the new building, College of Business Dean Marie Hansen said, "Husson University's College of Business continues to experience strong enrollment growth. Last year, it grew by over 3.2 percent. This new facility will help us meet the needs of our growing student population." "Shaping our Future" has additional fundraising priorities. The University is interested in:
 Providing additional financial assistance to students in the form of "need based" and "merit based" scholarships. Last year, Husson University provided over $10 million in institutional funded grants and scholarships to help make education more affordable.
Increasing its endowment in order to attract and retain great faculty. In addition, the campaign would provide support for research.
Supporting experiential learning. U.S. News & World Report listed Husson as one of the top ten colleges and universities in the nation with the "Highest Rate of Student Internships" in 2013 and 2014.
Establishing a Center for Student Leadership. Within the center, business leaders would mentor students and help them develop the traits that make people successful in positions of authority.
Funding a Center for Learning and Peer Tutoring. This center would assist instructors and student peer tutors in developing their educational skills and abilities so they can teach others more effectively.
Enhancing cultural and educational experiences for students and the community through increased support for the Gracie Theatre. As a result of the silent phase of the "Shaping our Future" campaign, Husson University's endowment has grown from $6 million in 2010 to $20 million today. To see the official campaign video visit https://www.youtube.com/watch?v=6kh58Q2JdkM
For more than 100 years, Husson University has prepared future leaders to handle the challenges of tomorrow through innovative undergraduate and graduate degrees. With a commitment to delivering affordable classroom, online and experiential learning opportunities, Husson University has come to represent superior value in higher education. The Bangor campus and satellite education centers in Southern Maine, Wells and Northern Maine provide advanced knowledge in business; health and education; pharmacy studies; science and humanities; as well as communication. In addition, Husson University has a robust adult learning program. For more information visit Husson.edu.
Back to All Articles