"Husson Creates" – An Exhibition of Work by Faculty and Staff at Husson University's John Rohman Art Gallery
Published on: October 27, 2015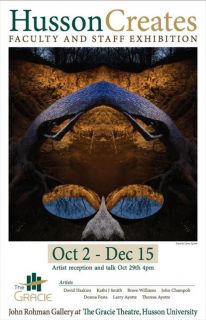 WHAT: Art lovers are in for a treat as the WBRC Gallery at the Gracie Theatre features an exhibition of painting, photography and drawing created by the talented faculty and staff at Husson University. The opening reception on October 29, will give members of the public the opportunity to meet the artists and listen to presentations about their inspirations and process.
WHO: Kathi J. Smith, assistant professor of studio arts at Husson University, is organizing the event.
Artists participating in this event include:
• Larry Ayotte
• Theresa Ayotte
• John Champoli
• Donna Festa
• David Haskins
• Kathi J. Smith
• Brave Williams
More about Kathi J. Smith: Kathi J. Smith joined Husson University in 2014 as the assistant professor in studio arts and art appreciation. She has been practicing and educating within the discipline of Art in New England for over 15 years. She holds a BFA in painting and drawing, with a minor in art history from the University of Southern Maine, and a MFA in painting from the University of New Hampshire.
Smith's reputation and career are rapidly growing. In 2014, she was given the Distinguished Teaching Lecturer Award at Plymouth State University. In the past four years, she has participated in many regional and national exhibitions, and five prestigious residencies. She received a full fellowship supported by the Joan Mitchell Foundation to attend the Vermont Studio Center and has been a fellow and artist-in-residence at the Virginia Center for the Creative Arts, Weir Farm National Historic Site in Connecticut, and the Heliker-LaHotan Foundation in Maine. In the summer of 2014,she participated in a seven-week artist-in-residency program in Brittany, France, sponsored by Maryland Institute College of Art. Artscope Magazine featured her in "Kathi Smith's New England," in July 2013. She exhibits her work regularly in Maine, New York, and New Hamphire and maintains a working studio in Bangor, ME. Smith practices primarily in the arena of painting and drawing, though she also has facility in ceramics, printmaking, and other mediums. Her artwork reflects her landscape, in which she invites close observation of familiar-seeming places and their narratives.
WHEN: Opening Reception
Thursday, October 29, 2015 at 4:00 p.m.
Artist talks and light refreshments
Show
October 2 – December 15, 2015

WHERE: WBRC Gallery at the Gracie Theatre
Husson University
1 College Circle
Bangor, ME 04401
The WBRC Gallery at the Gracie Theatre was made possible through the generosity of WBRC Architects ▪ Engineers and John ('77) and Lynda ('03) Rohman.
HOW: No tickets are required. The event is free and open to the public. For more information, please contact Kathi J. Smith at 207-941-7004 or smithk@husson.edu
WHY: he event is designed to showcase the work of talented faculty members from Husson University's School of Science and Humanities and the New England School of Communications (NESCom).
For more than 100 years, Husson University has prepared future leaders to handle the challenges of tomorrow through innovative undergraduate and graduate degrees. With a commitment to delivering affordable classroom, online and experiential learning opportunities, Husson University has come to represent superior value in higher education. Our Bangor campus and off-campus satellite education centers in Southern Maine, Wells and Northern Maine provide advanced knowledge in business; health and education; pharmacy studies, science and humanities; as well as communication. In addition, Husson University has a robust adult learning program. For more information about educational opportunities that can lead to personal and professional success, visit Husson.edu
Back to All Articles