Husson University Homecoming 2015 to Feature Comedy, Music, Food and Fun
Published on: October 1, 2015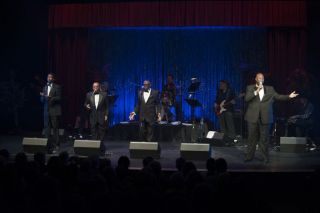 BANGOR, MAINE - Parents, alumni, students and friends will all be returning to the campus of Husson University in Bangor, Maine on October 1 – 3 to take part in Homecoming 2015. The celebration offers a variety of fun activities for every taste. Highlights from the weekend include:
Comedian Tom Cotter at the Gracie Theatre – October 1, 2015. The high-energy, rapid-fire comedy of Tom Cotter will be at the Gracie Theatre on Thursday, October 1 with shows at 7 and 9 p.m. This performance is the first of the Gracie's current season. Last year, Cotter became the first comedian to reach the finals of NBC's America's Got Talent (AGT). The show catapulted him to the comedic stratosphere. Before his historic run on the world's largest talent competition, the New England native was a familiar face on television shows like The Tonight Show with Jay Leno, NBC's Last Comic Standing and a Barbara Walters Prime-Time Special, among many others. Tickets for the show are $20.00 each and are available at GracieTheatre.com or by calling 207-941-7888.
Women's Philanthropy Scholarship Luncheon at the Spectacular Events Center – October 2, 2015. The Women's Philanthropy Council is a vital part of Husson University's engagement efforts. This invitation only luncheon brings students together with the donors who helped make their education possible. The Women's Philanthropy Council is a talented group of community leaders, alumni and friends of the University that inspires women to give of their time, talent and resources to Husson University. They also help develop women as philanthropists in an effort to benefit today's students - as well as future generations. A special presentation from two members of the "Husson Class of 2025" will look at the past, present and future of this remarkable institution of higher learning.
The Drifters at the Gracie Theatre – October 2, 2015. The original Rock and Roll Hall of Famers, The Drifters will be performing their classic songs at The Gracie this Friday night. This legendary group brought us the ever popular, "SHOUT" and other classic hits including, "Up on the Roof," "Under the Boardwalk," "This Magic Moment," "There Goes My Baby," "Dance with Me," and "Stand by Me." Tickets are available at www.gracietheatre.com, www.ticketmaster.com, Facebook, or by calling 941-7888. Tickets range in price from $20-$52.
Pre-Game Competitions – October 3, 2015. Part of the excitement of Homecoming 2015 will be the pre-game competitions leading up to our Homecoming football game against Castleton University. These include:
The Greek Games at 11:00 a.m. in the O'Keefe Softball Complex. Sororities and fraternities compete against each other in a series of friendly competitive events that allow students to get to know each other as they enjoy themselves. Competitive events include wheelbarrow racing, volleyball, and basketball.
The Top Chef Cook-Off at 11:30 a.m. in the Winkin Stadium Parking Lot. Join us at the Top Chef Cook-Off as alumni compete to make the best dish. Each competitor will be given a basket of Maine-made ingredients and will have 30 minutes to prepare a grilled sandwich.
Athletic Competition – A variety of athletic competitions will be taking place over the course of Homecoming weekend.
October 3
 1:00 p.m. Men's Football – Husson vs. Castleton. Admission is $5.00. Free admission to those who are 65 and older or 12 and under.
 4:00 p.m. Women's Soccer – Husson vs. Johnson State
 5:00 p.m. Women's Field Hockey – Husson vs. UMaine Farmington
 6:30 p.m. Men's Soccer – Husson vs. Johnson State
October 4
 1:00 p.m. Men's Soccer – Husson vs. Lyndon State
 3:30 p.m. Women's Soccer – Husson vs. Lyndon State
For a complete list of Homecoming events visit Husson.edu/Homecoming
For more than 100 years, Husson University has prepared future leaders to handle the challenges of tomorrow through innovative undergraduate and graduate degrees. With a commitment to delivering affordable classroom, online and experiential learning opportunities, Husson University has come to represent superior value in higher education. Our Bangor campus and off-campus satellite education centers in Southern Maine, Wells and Northern Maine provide advanced knowledge in business; health and education; pharmacy studies; science and humanities; as well as communication. In addition, Husson University has a robust adult learning program. For more information about educational opportunities that can lead to personal and professional success, visit Husson.edu.
Center for Family Business on the Bangor campus of Husson University.
Sharing their insights with those in attendance will be Richard E. Dyke, chairman of the board and chief executive officer of Windham Weaponry, Inc. and business broker Greg Caswell of the Caswell Vlachos Group, a merger and acquisitions/investment banking firm.
Both men have significant experience in business acquisitions from both the buying and selling perspectives. In fact, Dyke has bought and sold over 60 companies during his lifetime. Their topic is "Buying and Selling Businesses."
Modeled after Inside the Actors' Studio, "A Conversation at the Dyke Center" brings together business people who are at the top of their game for a conversation in an intimate setting. Attended by students, Husson community members and guests from the area and beyond, the lessons learned and stories shared will inspire and inform those in attendance.
"A Conversation at the Dyke Center" is sponsored by Husson University's College of Business. This unique interactive conversation provides students with the opportunity to connect with successful and talented professionals as part of their education. Students must complete background preparations leading up to the event and prepare pre- and post-visit papers. In addition, some students get the chance to "pick the brains" of the guest business leaders over lunch.
More About Richard E. Dyke:
Richard E. Dyke grew up in Wilton, Maine in a home without an indoor bathroom. His parents, wool and shoe manufacturing workers, bathed their children in a tin tub behind the sink.
From humble beginnings, Dyke went on to attend Wilton Academy and Husson College, (known today as Husson University). In the midst of his degree studies, Dyke joined the Army and served in the 108th Counter Intelligence Corps in South Korea and Iceland. After the Army, he returned to Husson and completed his degrees in finance and taxes in 1958. Dyke was a member of the Mu Sigma Chi Fraternity while he attended Husson.
After graduation, Dyke served as a U.S. Treasury agent; a revenue agent with the U.S. Army and the IRS; and as an assistant treasurer and treasurer of Burnham and Morrill.
He next built his own tax practice known as Dyke Associates. Over the next 15 years, the company grew into a major consulting business. Dyke then sold the business to his employees.
After selling his business, he put his energy into buying ailing companies and returning them to profitability. Dyke made his first million before he was 30 years old and has been involved in over 60 start-ups, acquisitions, and turnarounds over the past 50 years. Some of the companies he has helped include Mr. D's Frozen Custard, Maine Poly Inc., and the Naples Country Club.
In 1976, he paid $241,000 to buy Bushmaster, a maker of the M-16 and AR-15 rifles used by law enforcement agencies, private security firms, sportsmen and members of the armed forces. Under Dyke's leadership, Bushmaster grew into an $85 million company.
Bushmaster was sold for an undisclosed amount in 2006. When the people who bought Bushmaster decided to move it "lock, stock and barrel" out of Maine to New York in 2011, Dyke was left with both a dilemma and an opportunity.
Almost to the day of the 2011 move, his non-compete clause expired. Dyke still owned the property where Bushmaster had been built, and knew all the workers - now laid off - who had helped him build it. He made a decision to "get back in the game" and promptly put an email out to many of his former employees and friends asking if there was an interest in joining him for a new project.
With a resounding "yes" of support, he gathered the financing in two days, and started bringing people back into their long-time Windham manufacturing home. Phoenix-like, Windham Weaponry was on the rise. Within three months, the first production models of the new Windham Weaponry line had been perfected and delivered.
His lifelong interest in family business and education led to the creation of the Richard E. Dyke Center for Family Business on the campus of Husson University. "I have spent my life in family business," said Dyke. "It has been exciting, often lonely, high risk and tremendously rewarding. In creating the Center for Family Business at Husson University, I wanted to give something back to the family businesses of tomorrow."
In addition to being a former Husson student and the donor responsible for the creation of the Center for Family Business, Dyke is also a former chair of Husson University's Board of Trustees. He served on the Board of Trustees from 1965 – 2000.
He was inducted into the Husson Alumni Hall of Fame in 1970. Six years later, he received an honorary doctorate in business administration from the institution.
Earlier this month, Dyke received the 2015 Freedom and Opportunity Award from the Maine Heritage Policy Center (MHPC). The Freedom & Opportunity Award is given each year by the MHPC to the person they feel is a "Maine citizen who has best demonstrated a core commitment to the principles of freedom and opportunity that serve to improve the economic well-being of this great State."
More About Greg Caswell:
Prior to becoming a co-founding principal of the Caswell Vlachos Group (CVG) in 2008, Gregory T. Caswell had a successful career as a commercial banker for over 20 years. His banking background involved various lending positions, including a stint as a senior lending officer at Coastal Bank. He was later named the president and CEO of this organization - a position he held for seven years. Caswell led the publicly traded institution from the brink of closure to a very successful re-emergence and eventual sale. This turnaround was a major "win" for the stakeholders.
He has partnered with Stephen Vlachos since 2005. Caswell's practice has focused almost exclusively on representing business owners interested in selling their businesses. In addition, he has developed strong relationships in the New England transaction and private equity communities. His years in banking have provided him with a network of resources that can help facilitate and finance business sales. More information on the Caswell Vlachos Group can be found at CaswellVlachos.com.
Back to All Articles