Husson University's Gracie Theatre Opens Annual Classical Music Series
Published on: October 27, 2015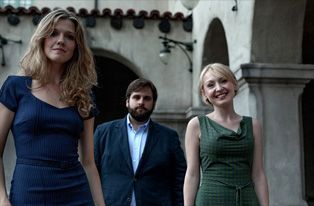 BANGOR, MAINE - The Gracie Theatre at Husson University celebrates the opening of their classical music series with a concert performance by the Neave Trio on Sunday, November 1 at 2:00 p.m. Hailed by critics as having "exceeded the gold standard and moved on to platinum," (Fanfare Magazine) the internationally acclaimed Neave Trio presents an exciting program of rarely performed works by Leonard Bernstein and Erich Korngold as well as audience favorite "Trio in F Minor" by Antonín Dvořák.
"The Neave Trio is truly world-class and we are fortunate to have them back in New England on a concert tour," said Jeri Misler, managing director of the Gracie Theatre.
While the Neave Trio is currently the ensemble-in-residence at the San Diego State University, they have some New England roots. One of its members hails from Boston, while another is a former Boston Philharmonic member. Last year, the Neave Trio was featured at the Rockport Chamber Music Festival as the "Rising Star" ensemble and made their Syracuse Friends of Chamber Music debut in October.
The Neave Trio formed in 2010 and was named the first-ever Fisch/Axelrod Trio-in-Residence at San Diego State University. The ensemble takes their name from a Gaelic word ("Neave" is a phonetic transliteration) meaning "bright" and "radiant." Interestingly, reviewers have used these very words when describing these musical performers.
Trio members hail from the United States, Scotland and Russia. They are graduates of the Eastman, Manhattan and Longy Schools of Music as well as the Chopin Academy in Moscow. Neave Trio violinist Anna Williams, cellist Mikhail Veselov and pianist Toni James have enjoyed international success at recital and festival performances around the globe. The trio has performed in some of the world's finest concert halls including Carnegie's Weill Recital Hall, Jordan Hall and Kodak Hall at the Eastman Theatre.
The ensemble's debut CD "Earth and Sky" was MusicWeb International's "Recording of the Month," as well as Fanfare Magazine's "Want List" CD. The three musicians were recently signed to Chandos and will release a CD of American piano trios in 2016.
Tickets for the concert are $17.00, and students with any school ID can purchase tickets for $5.00. Tickets are available at the Gracie Box office, www.gracietheatre.com, or by calling 207-941-7888.
Completed in October of 2009, The Gracie is Husson University's center for the fine and performing arts. This beautiful new 500-seat theatre is quickly earning a reputation as one of Maine's premier performance venues. In addition, The Gracie also serves as a learning platform for students from the New England School of Communications in digital audio, sound mixing, set design and construction, lighting, acting and electronics. For more information, visit GracieTheatre.com
For more than 100 years, Husson University has prepared future leaders to handle the challenges of tomorrow through innovative undergraduate and graduate degrees. With a commitment to delivering affordable classroom, online and experiential learning opportunities, Husson University has come to represent superior value in higher education. Our Bangor campus and off-campus satellite education centers in Southern Maine, Wells and Northern Maine provide advanced knowledge in business; health and education; pharmacy studies; science and humanities; as well as communication. In addition, Husson University has a robust adult learning program. For more information about educational opportunities that can lead to personal and professional success, visit Husson.edu.
Back to All Articles