The Gracie Theatre's 4th Season to Feature Music, Comedy and Children's Entertainment
Published on: August 28, 2015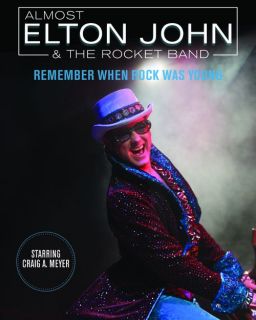 BANGOR, MAINE - The Gracie Theatre at Husson University is proud to announce its fourth season beginning October 1. Together with founding sponsor Bangor Savings Bank, The Gracie's season includes breakout star and top "Human Finalist" from America's Got Talent, Comedian Tom Cotter. This season will also feature Remember When Rock Was Young, with Broadway star Craig A. Meyer as "Almost Elton John;" HOME FREE, a country a cappella sensation; and Marilyn, Forever Blonde, a one-woman musical that captures the life and heart of Marilyn Monroe. Adding to the season will be a star from the television show Glee, and a family musical featuring goats (not real goats!)
"This season is a little bit country, and a little bit rock 'n' roll. We have the newly popular, entertaining country music of a cappella group HOME FREE, alongside the unforgettable songs of timeless icons like Elton John and Marilyn Monroe," says Jeri Misler, managing director of the theatre. "The intimate nature of the Grace Theatre allows fans to see performers up close making the experience more personal."
The season kicks off Thursday, October 1, 2015 with comedian Tom Cotter. Since his runner-up finish on NBC's America's Got Talent, Cotter has become a familiar face on The Tonight Show, NBC's Last Comic Standing, The Today Show, and Comedy Central Presents...Tom Cotter. He was also recently featured in the Miramax film, Next Stop Wonderland. There are 7:00 p.m. and 9:00 p.m. shows, with tickets priced at $20.
Remember When Rock Was Young, on Saturday, November 14, 2015, is a must-see show for Elton John fans. Broadway star Craig A. Meyer's vocal and musical talents make him the foremost Elton John impersonator in the country. With "The Rocket Band" behind him, and Meyer on piano, it'll feel as though you're watching Sir Elton himself.
HOME FREE, the nation's only country a cappella group and winner of season four of The Sing Off, entertains audiences with a high-energy show peppered with quick-witted humor. The performance is a mesh of Nashville standards and pop hits dipped in country flavor. HOME FREE will is performing Thursday, February 18, 2016, with tickets going on sale August 24 for this popular group.
Marilyn, Forever Blonde, with sold out performances across North America and a smash-hit run on London's West End, gives audiences a chance to experience the woman, the songs and the unforgettable moments of this entertainment icon. The show takes you on an intimate journey of a vibrant woman who inspired generations and continues to capture hearts around the globe. This faithful recreation, starring Sunny Thompson, pays homage to the incomparable Monroe in her own words and music. The show plays one night only on Saturday, March 19, 2016.
Season tickets will be on sale at the Gracie Theatre Box Office starting August 20, and will entitle patrons to premium seats at all four shows for only $115.00, without any extra fees. To reserve your tickets, call the box office at 941-7888 or email The Gracie at gracietheatre@husson.edu.
In addition to these four fabulous shows, The Gracie will be offering additional special performances during their regular season. Husson's Homecoming kicks off on Friday, October 2, 2015 with the original Rock and Roll Hall of Famers, The Drifters. This legendary group brought us the ever popular, "SHOUT" and other classic hits including, "Up on the Roof," "Under the Boardwalk," "This Magic Moment," "There Goes My Baby," "Dance with Me," and "Stand by Me."

If you are a fan of Glee, you'll want to be sure to join us for a live concert by season six star, Noah Guthrie. Guthrie will be performing songs from his latest album along with some of his famous YouTube covers, which earned him 56 million views. The concert takes place Friday, November 6, 2015 with tickets starting at just $15.00.

Young audiences can look forward to GRUFF, the family musical with goats (not real goats) during their February break on Saturday, February 20, 2016. The musical is a clever blend of fuzzy Muppet-like puppets, wacky improvisation, original music and a bit of magic thrown in for fun.
Husson will celebrate Black History Month and Women's History Month on Friday, February 26, 2016 with a performance of Ain't I A Woman, a chamber music theatre work celebrating the lives and times of four significant African-American women: ex-slave and fiery abolitionist Sojourner Truth, renowned novelist and anthropologist Zora Neale Hurston, folk artist Clementine Hunter and civil rights worker Fannie Lou Hamer. The musical score is drawn from the heartfelt spirituals of the Deep South, the urban exuberance of the Jazz Age and concert music by African-American composers, including Diane Monroe.
The Gracie Season is made possible with support from Bangor Savings Bank. The theatre gratefully acknowledges the generous support provided throughout the season by the following sponsors: The Bangor Daily News, The Maine Edge, Four Points by Sheraton, the Dead River Company, and WBRC Architects and Engineers.
Single show tickets are available at www.gracietheatre.com, www.ticketmaster.com, Facebook, or by calling 941-7888. Tickets range in price from $20-$52, depending on the show.
Completed in October of 2009, the Gracie is Husson University's center for the fine and performing arts. This beautiful 500-seat theatre is quickly earning a reputation as one of Maine's premier performance venues. In addition, the Gracie also serves as a learning platform for students from the New England School of Communications in digital audio, sound mixing, set design and construction, lighting, acting and electronics. For more information, visit GracieTheatre.com
For more than 100 years, Husson University has prepared future leaders to handle the challenges of tomorrow through innovative undergraduate and graduate degrees. With a commitment to delivering affordable classroom, online and experiential learning opportunities, Husson University has come to represent superior value in higher education. Our Bangor campus and off-campus satellite education centers in Southern Maine, Wells and Northern Maine provide advanced knowledge in business; health and education; pharmacy studies; science and humanities; as well as communication. In addition, Husson University has a robust adult learning program. For more information about educational opportunities that can lead to personal and professional success, visit Husson.edu.
Back to All Articles